Invisible Wireless Earpiece

This invisible earpiece is used to receive audio so that the wearer can listen to something in total discretion. The earpiece itself is inserted into the wearers ear canal and is therefore almost invisible to the naked eye.

FREE Next Day UK Shipping on This Product

product in stock

Inc VAT£238.80

Exc VAT£199.00

Price / kg:

PSA02

Product Code:
The invisible earpiece is designed for discreet listening or covert operations where headphones or wired earphones would be inappropriate.
The earpiece itself is inserted into the wearers ear canal and is therefore almost invisible to the naked eye. This product is supplied together with an inductor that connects to the device that audio is transmitted from.
The inductor comes in the form of a wire neck loop that can be hidden under clothing and plugged into the unit of your choice. We will always need to know, at the time of ordering, what connector is required to be attached to the neck loop (inductor). The battery life on the earpiece after a full charge is around 5 hours. Popular choices are radio receivers, mobile phones, MP3 Players and Digital Dictaphones. Prior to ordering please contact us at Spy Equipment UK to discuss your requirements.
If you need to listen to audio playback from an MP3 or dictaphone without an obvious earpiece or if you need to hear radio transmissions in total discretion, then an invisible earpiece is the only way that you can do this. The product is perfect to give the wearer outside instructional assistance by radio transmission or maybe for a lecturer who uses a dicatphone to discreetly provide an audio reminder of a lengthy lecture.
In-ear wireless earpiece with incredibly small dimensions
Designed to receive audio transmission from an inductor neck loop located in close proximity
Tiny replaceable batteries in earpiece
Operation run time with a fresh battery of approximately 5 hours
Supplied with one earpiece, neck loop and battery ready to go
Ideal for Private Investigators and Intelligence operatives or maybe Lecturers needing an aid for delivering a lengthy lecture
There are no videos at the moment
Does the earpiece stick out of the ear so that someone would see?
The unit is very small and can be fitted deep enough into the ear canal so that it is not obvious and visible unless somebody looks directly down the wearers ear.
Can several wearers of one of these earpieces be able to listen to the same transmission or recording?
No, the device requires the wearer to have a neck loop wire under their clothing that is close enough to the wearers ear to transmit the audio from the device to which the neck loop is connected.
Is this earpiece compatible with a bluetooth device?
This unit does not use Bluetooth as a transmission medium. We do offer a different version that is designed for use with devices that do run bluetooth technology
You will need to consider the following to use this equipment:
This particular earpiece is designed to deliver audio to the wearers ear. It is not a two-way communication device.
This earpiece differs from the bluetooth version of the device in that the neck loop physically connects to the Radio or MP3 or mobile phone under the clothing. Connectors for these devices differ. This does mean that Spy Equipment UK will need information on the intended paired device so that the correct connector can be affixed to the inductor neck loop connection wire.
We specify a shipping time of 48 hours, which does not include weekends and Bank Holidays. This allows enough time to ensure that we can supply the neck loop with the correct connector to suit your needs.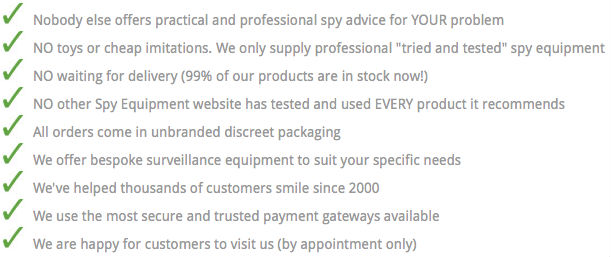 If you've still got a question about Invisible Wireless Earpiece then please fill out the form below or call us on 024 7601 0588 quoting PSA02.
Name:
How do you want us to respond to you?:
Email:
Question: