Spy Pen Digital Recorder (Voice Activated)

A very sleek and stylish pen that conceals a premium quality voice activated digital voice recording unit. This new unit is the size of a normal pen and has optional extra memory capacity than our previous model.

View all Bugging Devices

FREE Next Day UK Shipping on This Product

product in stock

Variant price modifier:

Base price with tax:

Salesprice with discount:

Inc VAT£150.00

Exc VAT£125.00

Discount:

VAP03

Product Code:
This is a powerful, premium quality voice activated digital voice recorder that is built into a stylish, black and steel effect pen.
This product has the recording controls incorporated into a simple slide button system (the pen clip itself) allowing for superb covert use. The device is powered by an internal, fully rechargeable battery, making the unit the perfect, completely self-contained audio surveillance device
It has an internal flash drive memory capacity as standard of 256MB allowing for up to 33 hours of audio recording to be stored and now also has an optional 1GB higher capacity, giving up to 140 hours of audio recording storage (in Long Play recording mode). The pen comes supplied complete with connection cable to transfer audio files onto your computer (Windows) completely hassle free. Also included is a set of headphones for discreet play-back if no computer is available. The pen still retains the normal writing function and is of standard length and girth thereby making the perfect covert audio recording tool.
Completely silent in operation
Simple pen clip slide switch activation
Memory - 256MB or 1GB internal flash

33/140 Hours in Long Play Mode
16/70 Hours - High Quality Mode
8/35 Hours - Extra High Quality Mode

Battery life - Approx.12 hours in recording mode or 8 hours in playback mode
Recharge time - 3 hours approximately (charges from PC)
Listening Radius - Up to 8 Metres
Dimensions - 11mm thick x 133mm long
Weight - 18g
Compatibility – Windows 2000 or higher including Windows 8 and also Mac running OS X
Accessories - Remote Controller, Earphones, USB cable, Owner's manual
Also supplied with extra replacement pen refills
There are no videos at the moment
Can this recorder still operate in recording mode when on charge?
Unfortunately it is not possible to make recordings on the Pen when it is connected to a charge outlet. The device is designed for stand alone operation from its internal battery only.
Is the device silent in operation?
Yes, the device is digital and there are no moving parts or sound alerts that would alert attention.
Will the recorder still record if it is hidden away from view?
Yes, the recorder will still pick up sounds from the environment, although if it is heavily buried out of site, the microphone effectiveness may be reduced. We have tested the product under a car seat and it was still effective.
How can the recordings be played back?
Recordings can be played back through supplied earphone or through computer speakers from the device or after the recorded files have been transferred to a PC.
Does the recorder make a sound when the battery runs out?
No sounds are made by the recorder at any time during operation or when the battery expires.
If the battery runs out when it is still deployed in recording mode, will the recordings be saved?
The device will auto save any recording onto the internal memory before the battery goes completely.
Do I need any special software to transfer recordings onto my computer or Mac?
No, this new version acts like a flash memory and therefore (unlike our previous version) no software is needed to transfer the files to the computer.
You will need to consider the following to use this equipment:
The recorded files on this device are not password protected, although you will need the right USB lead to connect the pen to a PC to retrieve audio recordings.
You will need a computer with speakers attached if wishing to playback recordings through your PC or Laptop.
You will require media player on the computer for playback of audio files. It maybe worthwhile downloading a free media player. We use VLC Media Player at Spy Equipment UK.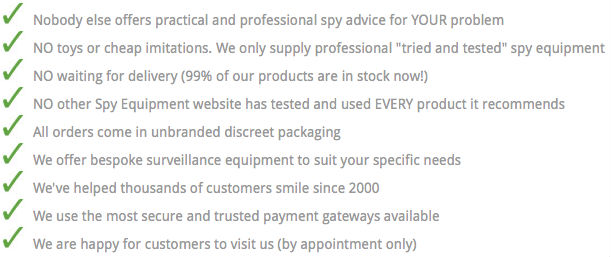 If you've still got a question about Spy Pen Digital Recorder (Voice Activated) then please fill out the form below or call us on 024 7601 0588 quoting VAP03.
Name:
How do you want us to respond to you?:
Email:
Question: