Covert Vehicle Trackers – The Truth Will Out!
While the GPS vehicle tracker of yesteryear is bulky, unsophisticated and unprofessional, today's devices have become increasingly streamlined, compact and capable of a whole lot more.
The modern magnetic GPS vehicle tracker is an ideal solution to your vehicle tracking needs – with no wiring, installation or technical expertise required, this nifty gadget can be simply placed and removed with ease depending on your preferred tracking spot.
Perhaps you run a fleet of lorries and want to monitor the amount of time and distance a driver has spent on the road? Perhaps your vehicle has been stolen and you want to track its whereabouts? Perhaps you want to protect your family, friends and loved ones by tracking their whereabouts? Whatever your reason, Spy Equipment UK can provide you with the ultimate covert tracking solution.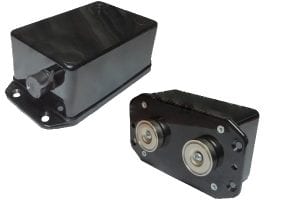 The clever alternative to covert surveillance
The GPS vehicle tracking devices of the past were originally installed inside the vehicle and connected to its electrical system – meaning the battery life was not reliable and that they were easily spotted by drivers and passengers. These big devices were not very powerful and were often unable to provide up to date, accurate information. That was until the advent of the GPS vehicle tracker, which is now commonly available for covert surveillance. Today's tracking facilities are state of the art.
How it works
Magnetic vehicle trackers are an incredible information and evidence gathering tool, enabling you to find out the truth rapidly. They can be installed underneath a vehicle to ensure they remain completely out of sight. The device then collects and transmits data via cellular network – depending on the preferred method to conduct your operations.
The data is stored by the tracking server and can be interrogated at a later stage in your investigation. GPS-enabled tracking systems combine sophisticated technology with flexible, advanced mapping and reporting software to ensure your results are accurate and that you receive real-time vehicle tracking information on, for example, vehicle location, direction, speed, idle time and start/stop, allowing you to gain the best possible insights.
Many modern covert vehicle tracking systems have the capability to:
Update the internal position of a vehicle within a matter of seconds
Provide locational information using cellular tower proximity or GPS satellites
Highlight real-time information with automatic refresh, live tracking from your mobile phone, and detailed activity reports
How do covert devices differ from regular GPS?
They are placed on the outside of a vehicle rather than the inside, usually under the chassis – they will usually have their own power supply because of this. The devices are more robust – designed to withstand excessive movement or tampering. They can also remain active in the face of extreme hot and cold temperatures.
Who might use a covert vehicle tracking device?
Typically, vehicle tracking devices are used by fleet operators for management functions such as fleet tracking, routing, dispatching, on-board information and security. In some instances, this monitoring may need to be conducted secretly – if a manager feels as though a member of staff is spending too much time on the road, or not enough time driving during an allocated shift, for example.
Most modern private investigators will use tracking devices as a precursor to manned surveillance and as an aid to preventing a surveillance loss during physical surveillance. However, it's not just the PI's who benefit from this superb evidence gatherer. The average man or woman with a need for a covert GPS tracker can be fairly confident of gathering evidence themselves and may even solve the issue that is bothering them without needing the services of a professional. Covert GPS trackers can now be considered as a surveillance essential that will help you get to the truth.
Additionally, other scenarios where covert tracking devices may be used include:
Stolen vehicle recovery
Asset tracking companies
Surveillance
Military operations
Police investigation
Benefits of using covert tracking devices
There are many benefits to using covert tracking devices, whether your reasons are personal or business-related. Many of today's high-tech devices can go beyond standard vehicle tracking, especially if you are working in a high-value or high-risk industry.
If, for instance, one of your vehicles or trailers goes missing or is stolen, covert vehicle surveillance may greatly improve your chances of recovering the vehicle. In addition, this information may help the police to act on the reliable data afforded by the tracker to assist in the recovery.
Some benefits of using covert tracking devices are:
Removes need for stressful confrontation
Ability to identify if your vehicle has been stolen
Greater chance of vehicle recovery
Knowledge of vehicle location
Providing substantial evidence for the police
Vehicle tracking and the law
In short, vehicle tracking is not illegal. You have every right to conduct a covert vehicle tracking if the vehicle or fleet belongs to yourself – this has numerous advantages to ensuring your assets are well protected. However, as with any investigation, this depends on what the information obtained will be used for. If you intend to monitor a particular person, rather than a fleet of your own vehicles, the date will be regulated by the Data Protection Act 1998. All Private Investigators are required to be registered as a Data Controller – check here.
Find out more
If you are interested in finding out more about the types of covert tracking systems that Spy Equipment UK has to offer, please contact us to speak to a member of staff today. We would be happy to advise and assist you in our latest products, whatever your investigation or surveillance requirements may be.