Counter Surveillance Sweep Service
Do you feel like you're being watched? Think your office or house might be bugged? Don't leave anything to chance and find out with our professional Counter Surveillance Sweep Service.
Do you suspect your privacy is being invaded? A competitor could be trying to spy on your latest product design, marketing strategy or customer lists. Or your spouse could be attempting to keep check on your comings and goings. Whatever the reason, you feel your privacy is being blatantly disregarded and you've had enough of it.
What if you could have real peace of mind about your privacy? What if you knew for sure whether you'd been bugged or not?
Wiretaps, hidden microphones and tiny spy-camera's are no longer just the domain of Hollywood movies. So if you've got something that's worth protecting, chances are you need to take action right now. The threat of corporate espionage is very real: many companies will gladly trade their integrity for information on your latest, secret achievements. And in the domestic realm, it's getting easier and easier to spy on the people closest to you – without them ever knowing.
Hiring just any counter surveillance or spy sweeping service won't fix your problems. Technology is advancing at a rapid pace. Most 'do-it-yourself' solutions (including the substandard equipment used by many 'professional' bug sweepers) are no longer enough to guarantee you'll find ALL bugs planted on your premises. Plus, spies are getting smarter and smarter about placing hidden mics and cameras: you always need to be one step ahead of them, in order to find those surveillance bugs!
If you want to be absolutely sure about whether you're being bugged or not, you need to hire the best in counter surveillance. Someone who knows exactly what he's doing and who uses the best bug sweeping equipment in the field. Here at Spy Equipment UK, we're able to offer you exactly that: the very best.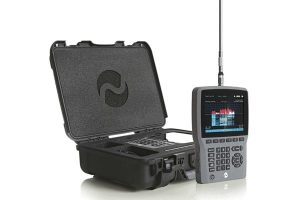 Why choose Professional Counter Surveillance Bug Sweeping
Two words: ex-policeman. Our bug sweeping service is lead by a veteran ex-policeman and private investigator. He brings a vast amount of field-experience and industry knowledge to the game – a match for any spy or overly-suspicious spouse!
Even the Police call on us for our expertise. We frequently assist Police by providing professional advice and expert opinion on surveillance equipment and counter surveillance techniques. So you can guarantee that our knowledge is always up-to-date.
We use the latest and best equipment. Not to mention some of the most expensive. Our specialist bug detection equipment is streets ahead of what most other companies or online shops can bring to bear. If you have a bug problem, then we are sure to find it.
We'll give you complete peace of mind. Not only will all your questions be answered by a seasoned professional – we'll also provide you with a complete and detailed report of our bug sweep. Once we've gone through your office or house, you'll know if you're being bugged or not, 100% guaranteed.
Would you like to know what we can do for you? Then leave your contact details below or call us – we'll get back to you to discuss the options and quote you a price!
What to Expect When From Our Counter Surveillance Sweep Service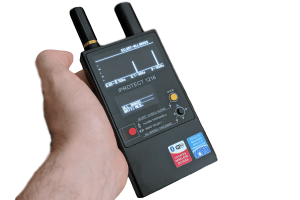 When we visit your property for a counter surveillance sweep you can expect, as a minimum, two experienced team members to conduct the service. We always act with complete discretion, so this team will arrive in a plain vehicle, will have any company logos on their workwear concealed and will also ensure that neighbours cannot view the specialist equipment used as part of the operation. Dependant upon the size of the area to be scanned, the visit will take two to three hours as a minimum, but more time will be required for larger search areas.
The visiting team will need full access to all areas being searched and will have to switch off any normally transmitting infrastructure such as WiFi and Bluetooth devices, as well as all wireless phones and mobiles. A physical search is also conducted that may involve examining electrical outlets and some plugged in items. If you need vehicles checked as part of the visiting service then there will be an extra charge for this.
Vehicle Counter Surveillance Sweep Service
Over the last 20 years mobile surveillance technology has become very compact and efficient and so it comes as no surprise that a growing area of concern for some of our customers is the threat of their vehicle being bugged or tracked. To counter this threat we also offer a car/vehicle counter surveillance sweep service. It is not cost efficient for us to offer a single vehicle check on a visiting basis, so we ask that the vehicle be brought to our business premises after making a prior booking.
A member of our team will want full access to the vehicle and checks will be made using professional signal scanning and inspection camera equipment, used both inside and underneath the vehicle. We are unfortunately unable to start pulling the vehicle apart such as internal trim panels to look for hard-wired trackers for example. This sweep service including advice will generally take around an hour, however if you wish to view our range of surveillance and counter surveillance products, with a view to making a purchase, then we can generally accommodate this without need for an additional appointment.