There's A New Camera In Town: Mini Black Box!
The Mini Back Box Security Camera is the pinnacle of modern CCTV & Spy Camera equipment. This high-definition, self-contained unit boasts incredible features such as infrared night vision and long battery life – all compacted in a sophisticated black enclosure for covert room surveillance.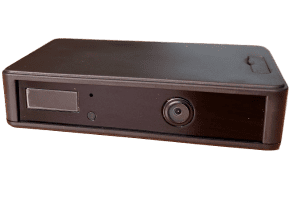 "We are very pleased to be able to offer our customers this slick, savvy mini security camera – for situations where a discrete, night vision capable unit is required, we would definitely recommend considering the Mini Black Box,' says SEUK owner and Director Adrian Mudd.
The box is easily transportable for quick and easy deployment, and the extra wide angle lens means that you can record and capture much more of your surrounds than the standard pinhole camera.
Special features include:
160º extra-wide angle view lens
Simple to use – 'plug and play' technology
Fully customisable downloadable widget
Different recording modes: motion activated, scheduled, etc.
In-built heat sensing passive infrared sensor (PIR)
Built in light sensor with auto-switching between day and night video recording
And so much more!
The Mini Back Box Security Camera also features some optional extras that contribute to its ease of use. You can select a package that suits your specific needs – eg. micro SD cards, rechargeable batteries, etc.
For more information on this product, or to seek further advice about your spy equipment requirements, get in touch with the Spy Equipment team today.