Spy Pen Voice Recorder Developments
We have been busy making adjustments to a Spy Pen Digital Recorder product and we're pleased to announce that the performance of this device has been improved even further. Our in-house development team have taken this product's abilities to the next level and we can't wait for our customers to get their hands on the latest version of this voice recorder.
What's New in This Spy Pen Voice Recorder?
This product has been a home run with our customers both nationally and internationally, therefore we have put the time and effort into developing it. Like all of our voice recorders, this device has been carefully designed and manufactured to ensure complete covert surveillance. Here are some of the adjustments that have been made, which contribute to an enhanced performance for users:
The updated version now has time and date reference on each recorded file.
Microphone sensitivity can now be adjusted.
Longer recording battery life – this has been improved by about 80%, making a huge difference to the recording time available in a single charge.
The audio quality has been improved further, meaning you'll hear absolutely crystal clear audio.
Key Features That Remain Within The Voice Recorder:
Weight – this is a lightweight product at just 20 grammes.
It sort of goes without saying but the device can also be used as a fully functional and high-quality writing pen.
Voice-activated – clip side switch to activate, pause or stop your audio recordings.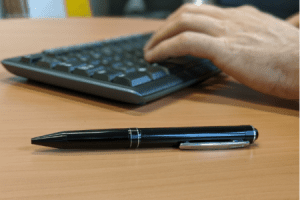 Where Can I use this Spy Pen?
The straight-up answer is – with the Spy Pen taking the appearance of a normal piece of stationary – it fits in virtually anywhere! It is at home in the professional, business and office environment and, as a device masquerading as an everyday object, it won't look out of place in any room of the home. In addition, attach the pen to your shirt pocket, trouser pocket, belt, carrier bag and record audio when out and about without raising suspicion.
This device doesn't feature in our Body Worn Spy Cameras range, as it is solely a recording device, however it does enable you to record sound on the go! You will find a spy pen camera device that allows you to capture audio and video in our body worn range. This device is our HD Video/Voice Recording Spy Pen, which has a camera built in – making it a spy pen camera.
Voice Recorders & Cameras from Spy Equipment UK
A different spy pen recorder that we provide is the Executive Voice Recorder Spy Pen; again, a very classy, results-oriented device. Contact us to talk more about the developments in this spy pen. Get in touch if you seek our advice on which device is best for you, although the featured voice recorder in his article is perfect for any situation if audio recording is your main objective! Our friendly team will be happy to advise you and share some of their extensive experience with regards to the analysis and deployment of our devices.