How Do Vehicle Trackers Actually Work?
You may already know what a GPS vehicle tracker looks like, and even what it does, but do you know it works? If not, the guys at Spy Equipment UK have put together this hand guide for you!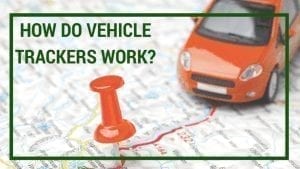 The basics
Trackers are used to locate vehicles using GPS technology – the same kind of tech you find in sat navs and smartphones. The tracking device has a built-in GPS receiver that captures satellite signals, providing information of the vehicle's location at any given time.
Most tracking devices work off GPS satellite coverage and navigation, though in certain cases, a radio frequency or cellular network can be used when GPS signal is poor. Setting up a vehicle tracker is generally cost-effective and simple – see our video on how to fit a covert tracking device to vehicles.
We design, manufacture and stock a range of vehicle trackers, asset trackers and people trackers, capable of relaying data back to a specified computer – some even allow you to view the specific whereabout of a vehicle, asset or person via your phone or tablet.
GPS vehicle tracking
GPS was originally created by the US Department of Defence, with support from satellite radio navigation. It consists of approximately 32 satellites that transmit microwave signals to individual GPS receivers.
These satellites are in constant orbit around the world, enabling GPS systems to calculate and locate the position of a vehicle on the surface of the earth with precision. The GPS receiver contains an antenna that picks up the frequency of these satellites and a high precision clock. It can receive signals from four or more satellites at any given time, and divides its position into a triangle, forming a high degree of accuracy when locating a vehicle.
This information is then transmitted to the end user via their mobile phone device or computer, providing you with data on the speed, engine state and location, and much more.
What can I use a vehicle tracker for?
Vehicle tracking devices can either be used in real-time or historic settings, allowing you to actively trace a vehicle or passively review the data at a more convenient time/date.
There are many circumstances where a vehicle tracker might be a good investment:
If you run a fleet or business vehicles and want to monitor the whereabouts, safety of your employees and track your assets. If you are worried about your vehicle getting lost or stolen. Tracking devices are often used by the police or private investigators to track vehicles during an investigation. If you are a concerned parent wanting to track a child. People with elderly relatives may also purchase a vehicle tracker to keep an eye on them while they are on the road.
Contact Spy Equipment UK today!
We have been creating innovative spy technology and supplying high-tech products to the UK and further afield for many years. Our range of vehicle trackers are among some of the most popular devices we have in stock. However, we also have an incredible range of spy cameras, audi recorders, spy phone, computer monitoring software and bugging devices.
For more information about our vehicle trackers, or any of our spy products, get in touch with Spy Equipment UK today. Give us a call on 024 7601 0588 or drop us a line at [email protected]. Alternatively, you can fill out our online enquiry form and we will get back to you shortly.
Keep up to date with the latest information and news about Spy Equipment UK, follow us on Facebook and Twitter.