Additional Data Security With The Data Shredder!
SEUK has designed and manufactured a brand new tool for your data security requirements. The nifty Data Shredder Software, which comes on a USB stick, can be used as an additional security measure to delete documents, images, files and folders.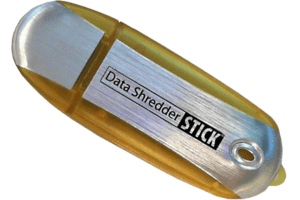 Keep your personal and confidential data secure by ensuring it is completely unobtainable with the Data Shredder. Once deleted, no one will be able to touch your information and imagery – giving you total peace of mind.
Special features include
Superb software on USB stick to permanently delete confidential/sensitive information
Ideal for those who use various computers or 'hot desk' in their working environment
Software is simple to use with a step by step guide to assist the process
Shred/overwrite files and folders from hard drive, USB or other multimedia devices
Select individual files to shred or overwrite a complete folder/drive
Shredded files cannot be recovered forensically in any way
Beat the hackers by ensuring no access to your personal information after deletion
System Compatibility: Windows Vista, Windows 7, Windows 8, or Windows 10
Ideal for use by individuals or in a shared office environment scenario
This new device is easy to use and understand – simply plug in the USB to a Windows device and run the software application. Shredding/overwriting individual files takes no time at all, and software upgrades are free for a whole year.
Contact us if you would like to learn more about the Data Shredder or any of our computer monitoring devices.