Ford Transit 'Spy Van' is up for auction!
A blue 1998 Ford Transit 'Spy Van' will go under the hammer at an auction centre in Charnwood road, Shepshed on May 22, in a bid to raise money for the Alzheimer's Society.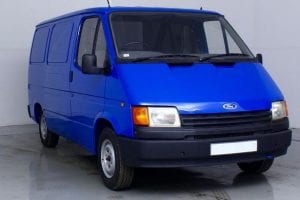 Manheim's Director of Commercial Vehicles, James Davis, purchased the government restored vehicles, for the 50th-anniversary celebration of this iconic vehicle.
Over the past few years, expert craftsmen from C Walton Ltd in Bruntingthorpe, Leicestershire have painstakingly restored the panels and paintwork and James has bought surveillance equipment and monitoring devices for the interior.
What Makes It A Spy Car?
Added equipment includes period-correct spy cameras, microphones, and other monitoring equipment re-fitted to give the vehicle an authentic look.
The vehicle's paperwork indicated that the van operated in the south-east, north-west and north-east England, as well as Scotland. The vehicle covered just 6,000 miles between 2003 and 2013 – the mileage reads 48,000.
"The van is believed to have been used by HMRC for covert surveillance, but could well have been used for 'higher profile' purposes…" explains James, who has set up a JustGiving page to help raise £5,000 for the Alzheimer's Society.
James' page tells of how his father, Rob, was diagnosed with Alzheimer's six years ago, with James urging people to give any size donation to help fund research into this disease.
To help James reach his £5,000 fundraising target, visit his JustGiving page here. If you wish to talk to us about a spy project of yours, contact us today!