GCHQ's Astonishing London Spy Centre Revealed
Covert surveillance is the aim of the game for individuals or organisations utilising spy equipment – such as discrete hidden cameras – and intelligence. From the outside looking in, anyone not in the know would scarcely believe that the recently retired, mundane Government Communications Headquarters (GCHQ) in London, was a spy base for more than 65 years.
Located on Palmer Street, opposite St James' Park tube station, the building is quite remarkably located between a Starbucks and the Adam and Eve pub. It served as GCHQ's London home since 1953, although some locals insist they had knowledge of what the building was being used for.
About GCHQ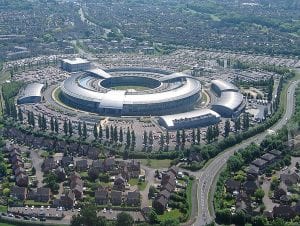 Image Source – Adrian Pingstone
GCHQ was set up on 1 November 1919, as a peacetime cryptanalytic unit – cryptanalysis is the process of decrypting coded messages without knowing the key. They're often entitled 'Britain's Listening Post', although their website insists that the phrase 'world-leading intelligence, cyber and security agency' is more of an appropriate description.
What Purposes Did The Building Serve?
Amazingly, the building was used by British intelligence personnel for over 65 years, and has recently been sold privately with future plans for its uses unknown. The Ministry of Works declared the Palmer Street offices a base for GCHQ's director and a premises to deal with the handling of secret paperwork, following the intelligence service's decision to move its headquarters from London suburb of Eastcote, to Cheltenham in the 1950s.
The agency currently has four other permanent locations, aside from its headquarters in Cheltenham, which are situated in Bude, Scarborough, Lincolnshire and Harrogate. GCHQ also has plans to open up a security facility in Manchester later this year.
High-Security Operations
The information contained inside the Palmer Street base was of the highest secrecy, therefore security certainly would've been trained to detect listening devices, asset trackers or a spy camera attached to anyone passing through the vacant looking entrance.
A spokesperson for the agency said, as reported by The Independent: "The Palmer Street hub has played its part in significant events over the years, such as the 2012 London Olympics, and working with our partners, MI6, MI5 and the Metropolitan Police, to counter terrorist activities and serious and organised crime, whilst keeping ministers up to date with security briefings."
Common Knowledge to Locals
The primitive rule that secrecy is king and queen of a secret intelligence service may have been lost somewhere along the line in the case of the former GCHQ London base. It was common knowledge to business owners and workers in the surrounding area that the building in question was something to do with the secret service. When asked if she knew what the offices next door were used for, a barmaid from the neighbouring pub revealed: "It's M…MI6. We don't really talk about it."
Another local worker, Jack Holden from Pall Mall Barbers, also knew that the building was used by GCHQ. Citing the lack of furtiveness around the operations undertaken in the building but referencing the high level of security associated with it, he said: "It was just common knowledge. It looks suspect, doesn't it, with those blacked out windows? It's a very secure building. It's legit."
Covert Surveillance With Spy Equipment UK
We have a variety of surveillance and counter surveillance devices available and we're continually working to manufacture new products. Our dedicated team consists of former private investigators, police officers and engineers, consequently, we have the requisite professional knowledge and industry experience to deliver effective spy solutions. Contact us for more information about our unique and highly recommended spy products.