How Spy Gadgets Keep Cyclists Safe
With more and more cycle lanes cropping up around the UK; bike-to-work schemes offering employee incentives; and people wanting to avoid traffic in the towns and cities, it's no wonder that people are frequently opting for a cycle ride rather than a car journey.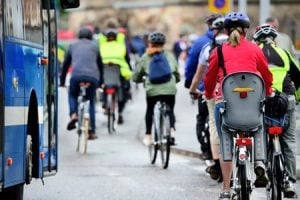 Cycling is incredibly popular in all parts of the UK, and there are tonnes of active cycling communities up and down the country – many cycle for fitness and wellbeing, others for pleasure and social occasions, or as part of a daily commute to work.
But we are still a long way from achieving cycling utopia, with motorists still heavily dominating the roads. In 2014, a reported 21,287 cyclists were injured in road accidents – including 3,514 who are killed or seriously injured.
This presents a number of hazards and inconveniences for cyclists, which can lead to some compromising situations. So whether you are training for the latest cycling event, or you are enjoying a leisurely bike ride on a sunny afternoon, it's important to ensure you are well protected at all times.
Keeping cyclists safe with spy gear
While knowledge and experience will help to prevent cyclists from danger and bikes from theft, they may not always be completely successful measures. Cyclists might not be aware of how beneficial spy equipment can be in protecting and securing your bike and, more importantly, yourself. There are a couple of essential pieces of equipment that could help to keep you safe. The following gadgets may just come in handy!
Body-worn spy cameras
Hidden cameras may be a preferred method of recording over convert cameras such as the GoPro, as they are less likely to cause anger or upset should you get into a confrontation with a driver.
Not just for James Bond or the undercover reporter, the body worn spy camera could ensure your safety when cycling. Roads can be busy and dangerous, and fast-moving traffic can come out of nowhere. As a cyclist, you are at a disadvantage when faced with the busy road, and certainly more prone to collisions, accidents and confrontations with irate drivers.
Say, for instance, you are hit by a car that was being driven dangerously – a body-worn camera may provide you with the evidence and information needed to make a claim. There are many different cameras to chose from, but we recommend choosing one that is compact and suitable for using on the move.
GPS trackers for bikes
Between April 2015-March 2016, there were 327,000 incidents of bike theft in England and Wales.
Of course, good bike safety begins with a strong bike lock, but they are not always effective in deterring thieves. Some bikes cost thousands of pounds and are incredibly valuable. To avoid having your bike stolen, we suggest investing in a GPS tracking device. The major benefit to using a tracker is that you are able to locate your bike quickly and easily should it become stolen.
High tech GPS trackers are usually capable of recording both real-time and historical data, and many can be controlled from your mobile phone or device. Furthermore, mini trackers can be easily secured onto a bike and are discreet.
Trackers are also great to monitoring your children's bike activity – knowing where they are cycling can be a massive weight of a parent's mind. Considering investing in a tracker if you are worried that your child has strayed too far on their bike, or to see if they are close by when curfew is approaching.
Securing your bike at home
It's also very important to keep your bike safe when it's not in use. If you are not able to store your bike behind closed doors when you get home, you may want to consider investing in some home security or CCTV cameras. Some specialist or vintage bikes cost thousands of pounds and are incredibly valuable, so it's crucial to ensure they are secure at all times – especially when they are left outside your property.
Whether you are a keen cyclists or you are taking a family stroll, it is important to protect yourself, your family and your bike from harm. At Spy Equipment UK, we can help you to locate some of the best devices to prevent theft and ensure you are well protected. Give us a call today to find out how we can help secure your bike.