How Do Encryption Devices Work?
The internet. What a wonderful, magical thing! Where you can surf the web for hours – watch cat videos until your eyes hurt, check out your mum's latest holiday photos on Facebook, or scan Google for answers to important questions like 'why is the sky blue?' and 'does Gordon Brown have a glass eye?'
A deluge of information is readily available at the click of a button, or the swipe of a screen. Buy, sell, enquire about holidays, books, cars, CDs and DVDs, insurance policies, train tickets – just about anything you want.
If you are making an online transaction, or sending sensitive information via the internet, it is likely that you will be including your name, email, physical addresses, phone numbers, bank details, as well as passwords and personal identification numbers.
In addition, the loss of theft of a laptop, or smartphone can increase the likelihood of this important information being exposed. It's around this time you go to check your bank balance and realise that someone has transferred £3,000 of your money to a suspect company that has no contact number, website and no address.
If you have ever fallen victim to such crimes, or you are interested in finding out more about how to prevent your personal information being hacked, please read on!
And Cue Encryption…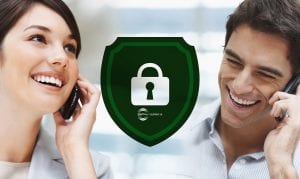 There are many ways to keep your information secure online. One of the most popular methods is encryption – the process of encoding information so that only the person or computer you want to share it with can decode it with a key. An encrypted device is far more secure than an unencrypted one – they can also be far more reliable than even the most secure passwords.
Encrypting your local storage makes it almost impossible for anyone to access your data without your permission. They will require a key to actually mount the drive or retrieve any information from your device. In addition, if you wipe the drive and/or add new data, that will also become encrypted.
At Spy Equipment UK, we have designed and manufactured a range of encryption products for your mobile phone devices. Below, we take a look at a couple of our best-selling products.
Secure SMS Communications
With so many devices in use today, it is easy for people to eavesdrop on mobile phone communications. With our easy to install and use CryptToGo, our software ensures that all of your SMS communications are completely secure.
This product is great value for money, yet totally effective for keeping communications secure. It is also compatible with a range or devices – Blackberry, Android, Windows, Nokia, Sony Ericsson and Samsung handsets.
Special features include:
100% totally secure SMS communication guaranteed
Incredibly high-level encryption algorithm
No hidden ongoing costs, fees or subscriptions after initial activation
Simple to install and very easy to use
Application is password protected on handset for additional security
Fully evaluated and approved by Department of Computer Science in Israel
Once this incredible software has been installed. There are no hidden fees, subscriptions or ongoing costs – simply set up the software and use to your heart's content. Perfect for lawyers, police and government officials, politicians, executives, VIPs and anyone looking to keep their information secure.
Genie Phone Scrambler
Phone hacking scandals have made headline news in recent years, and the general public becoming more aware of potential threats to security. Don't risk your privacy being breached – alleviate concerns with this simple solution.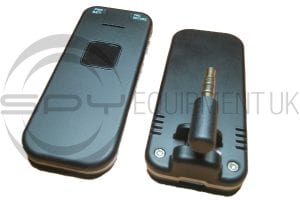 Special features include:
For those times when you need to keep your voice calls secure, the Genie Phone Scrambler is a simple yet hugely effective phone monitoring tool. This clever counter surveillance measure disables the other party's ability to secretly record your phone calls and keeps you safe from phone hackers.
Compact self-contained Unit with excellent build quality
Easy to carry around in a pocket for use whenever required
Calls made when using device in conjunction with a paired unit on another phone can be switched between normal and encryption mode
In encryption mode, if calls are recorded at either end or in between, the audio will be totally scrambled and impossible to decipher
Disposable code – every time a call is made it is encrypted differently
Compatible with most smartphones (Android, Blackberry, iPhone, etc.)
Very compact dimensions: 69 x 29 x 7mm / Weight: 25g
Rechargeable battery lithium battery gives 2 and a half hours of operation
Supplied with charger and smart hard plastic carry case
The device is light, easy to use and store, simply switch it on and plug it into your headphone socket. Press the security button to scramble your conversation. The encryption key will change each and every time to ensure maximum security.
Get in touch with Spy Equipment UK
Here at Spy Equipment UK, we know all too well the problems our customers face when it comes to falling victim to phone hacking. That is why we have specially created a wealth of products to ensure your safety and protection. Enquire today for advice and further information about our encryption software and products.