Introducing The New Desktop Charger WiFi Spy Camera
It's time to welcome our all new Desktop Charger Camera, a WiFi solution that is extremely versatile and can be applied to a number of varying situations. We're excited to share this product with our customers and explore all of the new, outstanding features that make this device one of the best of it's kind today. Read on to discover the standout elements of the latest WiFi spy camera to be made available to customers and to determine how you can use it to your advantage.
What's New In The Latest Desktop Charger Camera?
Previously, at Spy Equipment UK, we offered a desktop charger spy cam suitable for Android and a completely separate desktop cam device that was suitable for iPhone. However, with the all new Desktop Charger Camera, customers can use the device to charge both Android phones and iPhones. The desktop comes with three interchangeable connecting cables, which are: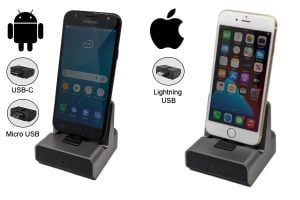 USB-C
Micro USB
Apple Lightning USB
So, if you or a group of you own Android phones and iPhones and want to use a covert spy camera device for evidential purposes, no longer will you require two separate solutions! The docking station is also suitable for Android and Apple tablets! This is undoubtedly a money saver and with a price of £296.40 (Inc. VAT), the Desktop Charger Camera is a product that provides a whole lot of value for money.
Notable Features Of The Desktop Charger Spy Camera
As always, we've sought out the best desktop charger cam solution available at this moment in time, as we understand the need for the most detailed findings without drawing attention. There are a variety of aspects that make this product a leading solution in the covert WiFi camera market, some of which we can share right now:
The three interchangeable connecters mentioned above that enable both Android and iPhone devices to charge on the dock
Motion detection – the device will only start recording footage when there is movement detected. This means that there isn't a lot of uneventful footage to work through
Time and date stamp on record footage, for evidential purposes
Simply plug the device into a mains power supply to operate, no specialist knowledge is required
Flexible and quality video resolution – choose between 1080p, 720p or 480 at 30 frames per second (real time)
Supplied with a 16GB micro SD card but the product will accept up to 32GB
Record footage at any stage of the day with the ability to switch between day and night mode
No flashing lights or distinct sounds when the device is in operation
WiFi and IP capability – view the feed remotely with a local router link up or monitor the video footage without the need for a router, if you are within 50 metres of the desktop charger spy camera.
Where Can I Deploy This WiFi Spy Camera?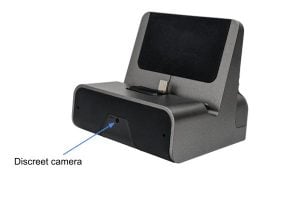 This device will not give off any signals or indicators that it conceals a spy camera, due to the advanced technology that can be found in the Desktop Charger Camera. It is one of the most covert of WiFi solutions, as is each and every device that makes it into our WiFi spy cameras range. Because of this trait, it is no exaggeration to say that the Desktop Charger Camera can be deployed anywhere without alerting the senses of someone you are filming.
Moreover, aesthetically, the desktop charger cam can be deployed in a multitude of environments. As it takes the appearance of an everyday desktop charger, it can be deployed in any domestic setting. If you wish to uncover the truth and gather crucial evidence without raising any eyebrows, consider deploying this device in the home or the office.
What makes this device even more safe to use and covert is the fact that it has remote live monitoring functionality. A live video stream can be monitored from Android and iPhone smartphones and Android and Apple tablets. The feed can be monitored from almost any location in the world, providing the deployed with a freedom not afforded by similar alternatives.
Order It Online Today
Order the Desktop Charger Camera today and receive free UK delivery. If you are ordering from outside the UK, we guarantee fast DHL shipping. We offer a number of payment methods, some of which allow you to pay in instalments. Choose from Visa, Mastercard, American Express, BACS, Stripe, Paypal and more. If you wish to learn more about the Desktop Charger Camera, or any of our other hidden camera devices, please contact us at a time and date that suits you.