Introducing Our USB Mains Charger WiFi Camera
At Spy Equipment UK, we regularly review all product ranges while contemplating new ideas to bring to market, and our latest offering comes out of our WiFi Spy Camera range. We're excited to present to you our brand new USB Mains Charger, complete with WiFi spy camera.
Through shrewd product design and first-rate execution, we guarantee that this device will fit into a home or office environment seamlessly, masquerading as an everyday phone charger. The USB Mains Charger WiFi Camera has several magnificent features that will allow users to pick up clear footage of the area they wish to surveil.
Key Features Of Our Latest WiFi Camera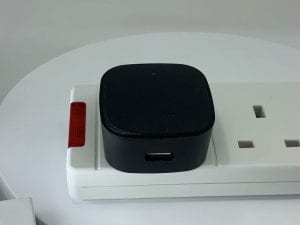 View, record, download, store and delete video footage remotely.
High definition video resolution – Switch between 1080p, 720p or 480p.
Camera image sensor – Receive alerts when your camera sensor is activated via our 1/2.9" CMOS Progressive sensor, and record with time and date stamping.
Integrated audio recorder – Microphone hole on side of plug.
Windows, Mac, iPhone and Android compatible.
Pre-installed with 32GB memory card.
Password protection for secure and confidential user access.
Straightforward Set-Up And Use
Like all of the products in this Spy Camera range, this device has been manufactured with our 'plug and play' technology, for ease of use. It is extremely simple to set up and will have you recording footage within ten minutes. If you are within a WiFi broadcast area, all that's left to do is to plug the charger into a socket and follow our explanatory setup instructions. Like most of our products, this WiFi camera commands no specialist knowledge, meaning a simple and satisfactory user experience from the outset.
Surveillance Of Multiple Locations
The USB Mains Charger WiFi Camera could provide just one of 20 live feeds, coming through to a single monitoring device (usually a smartphone or laptop). Multiple spy cameras and surveillance products can be set up in any given location and live feeds of each will be displayed on your device, giving you a complete picture of goings-on from differing areas.
A WiFi Camera For Any Situation
Having gained experience in industries where spy cameras are regularly deployed, the Spy Equipment UK team possess a wealth of knowledge when it comes to the design, manufacturing and distribution of such products. Look out for brand new additions to this and indeed any other of our extensive ranges throughout the course of 2019.
We have an array of clever WiFi cameras, all of which contain cutting-edge technology. If you'd like to speak to one of our experts about a certain device, or wish to discuss any personal product requirements you may have, contact our dedicated team.
Watch: How To Use Our Latest Offering