Launching The Brand New Surveillance Photo Frame Camera!
Here at Spy Equipment UK, we are excited to unveil our brand new surveillance Photo Frame Camera! By expanding our product range, we can provide the latest innovations in discrete surveillance products, perfect for both the home and business environment.
The photo frame is the best option when it comes to discrete room surveillance needs and as the camera itself is positioned in the darkest area of the selected picture, the device is unrecognisable. Requested and purpose built for one of our trusted customers, we have continued to manufacture the photo frame spy camera, which is now being used in care homes and certain situations where the safety of others is paramount.
Our service is second to none and because we are frequently rated as 'excellent' by our customers, we stand out when it comes to new and improved surveillance technology.
Specially Designed For Your Surveillance Requirements
Our knowledgeable staff leave no stone unturned when it comes to providing high-quality camera recordings and installation service, even in the most unassuming of places.
Adrian Mudd, Director at Spy Equipment UK, says: "One common shortfall of many covert camera systems is the ability to record in very low light. The Photo Frame Camera system has an auto-switching capability that allows the system to record full colour during the standard lighting conditions and then automatically change to monochrome footage when the light fades or becomes particularly subdued."
Other features of the photo frame spy camera include:
Multiple recording and memory option, producing high quality 720p HD video with audio and time/date stamp on playback footage.
An overwrite function for continuous recording.
Memory storage capacities of 32GB as standard.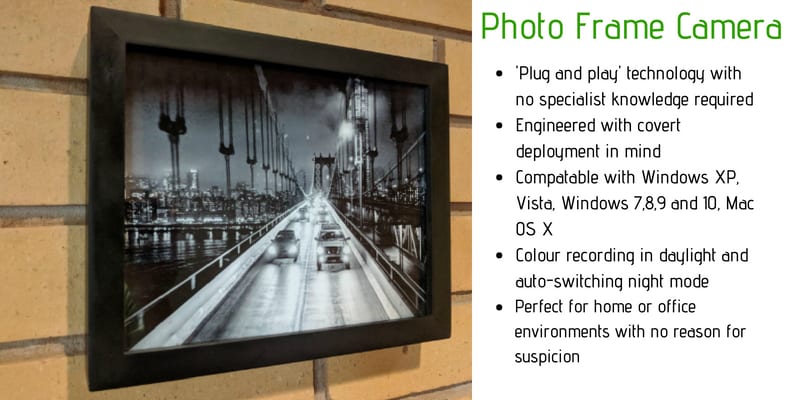 Photo Frame Camera – Looking at the Bigger Picture
Surveillance systems can often be deemed as intrusive, but when it comes to people's safety and welfare, there is no reason why you can't invest in discrete spy equipment. Whether you are suspicious of a cheating partner or relative residing in your home, or you want to feel safer within your company office, the photo frame camera, as well as our wifi spy cameras are designed specifically for those situations.
We believe you should always feel safe and protected in your own personal space and it is important to have a sense of freedom and peace of mind when going about your daily routine. The Photo Frame Camera comes with SD card package options, as well as changeable battery pack options and will be shipped to you within 24 hours of purchase. Priced at just £246.00 including VAT, our competitive prices can't be beaten!
Innovative Spy Camera Technology By Spy Equipment UK
If you would like further information regarding our brand new Photo Frame Camera, or any of our other spy equipment products then please don't hesitate to contact us today. Providing security for everyone is important, starting with you!