Protect Your Security With Phone Monitoring
Recently there has been a lot of discussion in the media surrounding smartphone security – or rather, the lack of it – and immoral phone monitoring. Vodafone has revealed the existence of secret wires on their networks that allow phone call data to be transmitted to security agencies, half of the most popular Android apps have been shown to have security faults, and iPhones have been outed as having surveillance "backdoors" that anyone could access. So, if you're worried about privacy on your mobile device, now is the time to invest in phone monitoring.
Phone Monitoring to Protect Your Privacy
Our phones are always with us, which makes them great surveillance devices. If someone could hear everything you said when your phone was in your pocket, what would they hear? Although it is important for government detective agencies to have some level of access to phone data to protect us from national security threats, the real risk is that these hacking techniques could become available for use by other untrustworthy parties. Whether it's a rival business, a boss or simply someone looking to compromise your personal information, it's understandable if you feel that you want to be aware of how your phone may be intercepted.
Counter Surveillance Tools for Phones
We offer a range of counter surveillance products for those who suspect that an unauthorised individual may be spying on them through their electronic devices. A number of these gadgets are specified for mobile phone use, encrypting messages or calls to keep your information safe. One such product is the Genie Phone Scrambler, which pairs up two phones when a call is made, literally 'scrambling' your words for anyone intercepting, unscrambling them for the intended recipient. All you have to do is switch it on and plug it into the headphone socket and your privacy is assured against all forms of hacking.
Our Secure SMS Communications software encrypts text message data on a number of smart phone devices. It works on two communicating mobile phones with CrypToGo software, creating extremely secure text conversations. You can even purchase incredibly advanced anti spy phones such as our PGP Encrypted Blackberry, which is a device with none of the 'back doors' that iPhones have, and features 56-bit / 4096 random key encryption software for worldwide email communication with no offshore data interference. This amazing gadget allows you to communicate anonymously with no concerns over being spied on, and even allows you to click a remote "kill-switch" if the phone is stolen to wipe the handset.
Dealing With The Threat – Spy Equipment UK Assistance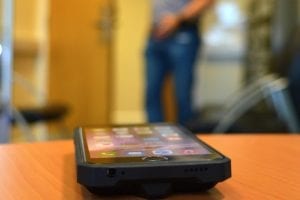 Gone are the days when mobile users could remain under the impression that their mobile usage is under no threat of being interfered with. Unfortunately, mobile hacking and devious phone monitoring is very much a reality. However, our phone monitoring devices can offer you the security you need to fend off such invasions of privacy. if you're concerned about your technological privacy on your phone, investing in anti phone monitoring equipment is the only way to ensure your information stays safe. If you'd like more advice on counter-surveillance please feel free to contact us and we'll answer all of your questions and help you find the right product to put your concerns at ease. Please contact us if you have any questions regarding the issue of phone monitoring, or if you would like to speak to our dedicated and knowledgeable team about purchasing some of our market leading phone monitoring devices.