Sports Direct Accused Of Bugging Private MP Meeting
Sports Direct has been lambasted after MPs discovered a listening device during a private meeting at the firm's warehouse in Derbyshire, Shirebrook last week.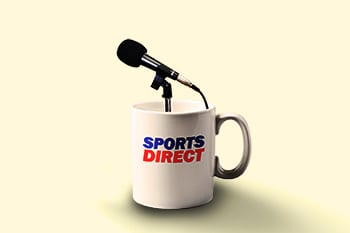 The parliamentarians were investigating working practices at Sports Direct, and were frustrated when they located the unauthorised hidden recording device during a private meeting held between them in the warehouse.
The sportswear conglomerate was being reviewed by the Committee, who visited the facility for a spot check to evaluate promises made by the firm to improve staff conditions.
Mr Ian Wright, Chair of the Business Select Committee wrote: "I appreciate the time taken by several members of staff to show us around the warehouse and answer questions.
"However, I also have to express our anger and disappointment at the placing of a recording device in a room in which we had requested to hold a brief and private meeting at the end of the visit."
Emotions were running high when the MPs caught a Sports Direct staff member – who was delivering refreshments – planting a mini camera in their private meeting room.
The MPs demanded an explanation as to how the recording device got there and why the firm felt the need to plant it in the first place.
Billionaire founder of Sports Direct, Mike Ashley, accused the MPs of planting the bugging device themselves, though Mr Wright hoped this serious allegation was a "spur of the moment misjudgment."
Mr Ashley later admitted that some of his employees were working for less than minimum wage, and that he was keen to improve conditions for staff, but denied any knowledge of the listening bug.
Covert Recording Devices in Common Use
The event echoes earlier news reports such as that of the New Zealand rugby team finding a hidden recording device in their hotel room during a match in Australia.
As well as this, Harvard Law School students located a recording device that was taped under a table in the Caspersen Student Centre back in April. Students commented that the device had picked up a number of sensitive and personal conversations held between pupils.
News reports also highlight an increased use of covert recording devices to monitor elderly friends and relatives in care home settings; by organisations looking to gather government intelligence; and by companies wanting to monitor employee activity, to name but a few.
Benefits of Using Hidden Recording Devices
In many instances, the use of hidden recording devices can be beneficial. Below we have listed a few reasons for when they might come in handy:
To gain evidence of office bullying
To gain evidence of an employee/business associate leaking confidential information
To protect against personal or corporate theft
To combat vandalism or destruction to property
To gain evidence when used by a PI or mystery shopper
To monitor a babysitter (nanny cam)
To track a fleet of professional vehicles (lorries, taxis, etc.)
Need a Recording Device?
If you think that a hidden recording device could help your situation, get in touch with Spy Equipment UK today and talk to one of our experts for further advice and information. Call us on 024 7601 0588 or contact us by dropping an online message.