Spy Cameras in the Media
The spy equipment that you find on our website was not always so easy to find. Products such as covert spy cameras have managed to blur the lines between film and real life and made the transition into everyday use. From cameras hidden inside watches to miniature coin-sized covert devices, spy gadgets are no longer reserved for professional spies.
TV shows Making Use of Hidden & Spy Cameras
Reality television shows have enjoyed a rise in popularity in recent years, mainly due to the fly-on-the-wall style of filming which appeals to the 'nosey-neighbour' side of so many people. Shows such as Big Brother, Educating Essex and SAS: Who Dares Wins use hidden cameras and audio equipment to capture realistic and relatable footage.
The interest in these programmes has sparked a rise in sales of hidden cameras, as people can see how accessible and seemingly easy-to-use they are. The increased interest has helped improve the technical side of such devices – as demand rose, so did the need for new specifications and improved availability.
Everyday Surveillance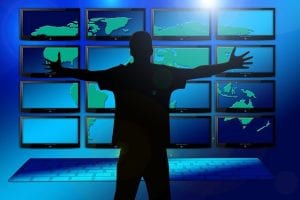 Accessibility to spyware has been made even easier by the internet. Professional and recreational spyware has become a lot easier to obtain and can be used in many different ways. Some may use it to film and share extreme sports videos, while other may like to investigate technical data prior to purchase.
The ease at which you can buy this type of equipment had led to of the public realising that they can use spyware to protect themselves, their family and their property.
Cases that regularly pop into the public arena include the use of D.I.Y spy cameras in situations where theft or physical abuse is suspected – the mistreatment of relatives in a care home, for example. Another trend to come out of the mainstream use of covert cameras is the huge growth in the domestic surveillance industry, particularly when it comes to a suspected cheating partner. The traditional methods of following your partner around is often seen as too time-consuming, and with spy cameras being so cheap they are often worth the expense.
Spy Cameras make the headlines
People seem more interested in cases where spy cameras have been used to gather evidence against those undertaking illegal activities, particularly where this has resulted in successful prosecution. One such case occurred when someone tried to break into the home of BBC Springwatch's Simon King. King had installed spy cameras in his garden to keep an eye on urban foxes – but resulted in a four-and-a-half year jail sentence for an opportunist burglar.
In some cases, the knowledge that accessible spyware exists at all can act as a deterrent, which is why businesses invest in overt spy camera equipment. Their presence can be still be very useful as its existence is easily forgotten and criminals can still easily be caught.
Thanks to the mainstream media including hidden cameras in some of their most popular stories and programmes, technology for our spy equipment has improved drastically. Whether you are looking to make your own film with fly-on-the-wall effects, wanting to catch a cheating partner or keep an eye on an elderly relative, one of our spy cameras will be able to help you out.
Contact us if you have a story about how spy cameras have been used to great effect or if you would like to learn about any of the hidden cameras on our site.