Spy Gear
Spy Equipment UK is a leading international supplier of spy gear and gadgets to businesses and individuals across the globe. With almost a decade of experience as the country's most well-reputed provider of spy gear to the police, private investigators, government bodies and the public, we are experts in developing the best of spy gadgets. Our client advisory team of Spy Guys also offer full support for first-time spy equipment customers and experienced users. Get a professional "Spy Guy" solution to your problem today…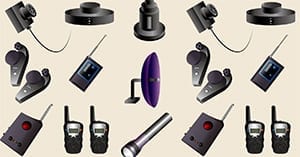 Spy gear is electronic equipment that allows users to collect information covertly without alerting other parties. Spy gadgets can be hidden in other objects, or are already disguised as everyday objects, to avoid arousing suspicion in others. Whether it is audio, film, computer data or any other form of data needed, spy equipment can allow the user to protect themselves, their business or loved ones subtly, accurately and with ease.
Spy equipment such as spy cameras are used to film and take still images of situations where physical visual evidence is necessary for the user to gather the information needed. Listening and recording devices can be used when the spoken word needs to be recorded. Tracking devices allow users to keep tabs on a vehicle, individual or valuable via GPS from afar. Phone monitoring and computer monitoring allows you to find out what an individual is using the device for and follow their communications. Counter surveillance determines whether the user is being spied on, and enables them to counter this and protect their privacy.
Spy Gadgets for All Users
It's not just the CIA and MI5 that use spy gear, it is used by professionals and individuals for business and personal purposes across the world, and in a technological age where it is becoming easier for others to disguise their actions, spy equipment is increasingly becoming a necessity for many. Contact us if you would like to learn more about our savvy spy gadgets and covert spy gear.