Unveiling the New Micro Tracker!
As ever, here at Spy Equipment UK we are always on the look-out for ways to improve our products and to make them even more discreet whilst outputting maximum performance. That's why we are excited to unveil our new micro tracker and adding it to our already significant range of GPS tracking devices.
A Stand Out Micro Tracker
"It is amazingly compact and can be hidden in many everyday things and is perfectly suited for tracking and monitoring of people, packages, assets, bags and many other items that would have previously been completely inconceivable!" – Adrian Mudd, Owner of Spy Equipment UK.
The fact that our brand new micro tracker is probably the smallest on the market, is a stand out feature in itself! As it is much smaller than our previous models it is the perfect asset tracker if you need to monitor individuals or items in a discrete and unrecognisable way.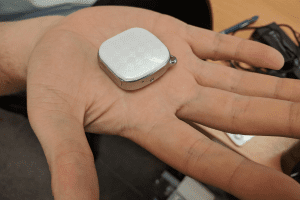 In a world of smartphones and apps, we have made sure that your micro tracker has been manufactured alongside 21st century digital technology. When deployed, the tracker device will report back to your mobile or web app every 20 seconds, leaving no room for mistakes when tracking a package or person. The device will automatically turn off when it has been stationary for five minutes.
Additional Features
We cannot wait for you to get your hands on our new micro tracker! Available through our online shop with quick delivery worldwide, everyone can take advantage with far more features than ever before:
The specialist battery is capable of up to three days of tracking.
Multiple micro trackers being monitored by one user at the same time – great for companies and businesses who already use asset trackers.
The tracker comes with a USB charge lead and mains adapter plug.
'Geofence' feature alerts you when the device has entered or exited pinpointed areas on the GPS map.
'Live' monitoring and logging history of destinations.
Built-in panic button and two-way call feature.
Tracking Devices Designed For You
With professional backgrounds in private investigation and counter surveillance, the team at Spy Equipment UK know exactly what individuals are looking for when it comes to spy equipment for everyday use. All of our tracking devices are specifically built with you in mind and to provide optimum usage.
If you have specific tracking device needs and would like to speak with one of our representatives, please contact us today and we will be more than happy to discuss your requirements.