Using Spy Equipment To Monitor Wildlife
Have you ever wondered what your cat or dog gets up to when you're not around? Ever swooned over the footage captured on David Attenborough's Planet Earth? Gazed longingly out the window in the hopes of observing different species of wildlife in your garden?
If so, the chances are that you are a lover of nature – or just curious as to why there are claw marks on your sofa and cat hairs in your bath tub. The diversity of wildlife found in the UK is unrivalled – flora and fauna are present all around us.
But with more housing and retail developments cropping up, as well as urban sprawl and increased traffic on the roads, it can be difficult to find places to observe nature in its element. In addition, many of us do not have time to sit around waiting for nature to appear in all its glory.
And for that reason, Spy Equipment UK has a few suggestions!
A Cat's Eye View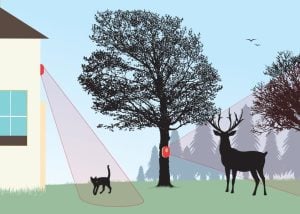 In 2014, the BBC released a series of documentaries called Cat Watch 2014: The New Horizon Experiment, whereby spy cameras and GPS trackers were attached to cats to find out what they really get up to on the other side of the cat flap.
The innovative scientific study featured top cat experts and aimed to pinpoint just how our feline friends view, hear and smell the world – both in a wild and domesticated sense.
At Spy Equipment UK, we hold a range of products that could help you to monitor your cat or dog's behaviour while you are not home. Our extensive range of trackers and hidden spy cameras are the perfect devices for seeing the world through the eyes of your pets!
Watch the first episode of Cat Watch here.
Where the wild things are
What are those strange noises coming from your garden? The rustling in your bushes? The rummaging through your bins? What wild things are visiting your home at night?
Many nature lovers are capturing nocturnal wildlife on camera. With advancements in spy technology, even the most tech-shy person can set up their own equipment to monitor the goings on in their garden.
Our outdoor spy cameras act as portable surveillance systems that are capable of withstanding outside forces. They are waterproof, come with battery or mains powered features, can withstand exposure to the elements and are easy to install.
In addition, our smaller outdoor spy cameras can be fitted into bird boxes, and trail cameras are also a popular choice among wildlife enthusiasts. Browse our selection of wildlife spy cameras here.
Go commando
And no, we don't mean take off your underwear!
Some pesky woodland critters might spot a perfect opportunity to meddle with your camera if they come across it. Therefore, we recommend using a camouflage camera that can be easily concealed, is small enough to be kept well-hidden, and comes in a waterproof casing with a high-quality lens.
These cameras require little human power to operate, and can be left to do the job due to their ruggedness and extensive recording capabilities – day or night. Whether you are looking to track deer, or monitor predator animals such as badgers and foxes, our camouflaged cameras are perfectly designed to capture any animal in the wilderness.
Think Big. Think Planet Earth
Wildlife shows such as the world-renowned Planet Earth use a host of spy cameras to record. Many recording hours of footage, in some of the hardest to reach places in the world.
And in recent years, many have using custom made cameras to observe animals in their natural habitat. In Bristol, for example, the BBC Natural History Unit has created a series of 30 super-realistic robotic animals (animatronic spy creatures) to go undercover in the animal kingdom for a new show, Spy in the Wild.
While Spy Equipment UK doesn't have any robotic monkey spy cameras, we do have a range of hidden spy cameras that are concealed in a number of everyday items. Watch this space – you may just find one of our hidden cameras embedded in a crocodile or an eagle!
Spy Equipment UK can help!
To find out more about our wildlife spy equipment, contact us today for information and advice and choosing the right product for your requirements.