6 Ways Hidden Surveillance Will Make Your Business More Profitable
Using hidden surveillance can help your business in a number of ways, from enhancing employee security to reducing theft and increasing productivity. It is estimated that every year, hundreds of thousands of pounds are lost as a result of employee theft, ranging from minor misdemeanours to high-level fraud.
With hidden cameras, you need never let anyone or anything suspicious out of your sight, giving you greater peace of mind.Today's security cameras are equipped with high-quality video capture and audio too. These clear images, coupled with high-quality sound, make them highly successful at recording any activities in the workplace.
Here are five ways hidden surveillance can benefit your business, protecting your employees and your property, as well as keeping your workplace efficient and therefore saving you money.
1. Combat personal theft
It's a sad fact that some workers will give in to the temptation of taking items from their workplace.Hidden cameras can monitor any workspace, no matter what its size. Even in a confined cubicle or desk area, a small camera can be placed inconspicuously in anything from a USB flash drive to a clock.
The camera can be left running overnight to cover the periods when cleaning staff or night shift workers may be in the building. Options include a WiFi spy camera, which can produce a live video feed as long as there is an internet connection.
2. Improve the efficiency of your workplace
Hidden cameras are ideal for keeping your workplace efficient by revealing whether employees are spending a lot of time in a break room, or if they are wasting time at their desk and not actually working.
This way, an employer can improve productivity by monitoring how much of the working day is actually spent working, and those employees who appear to be time-wasting can be given the opportunity to improve their conduct.
3. Enhance security for employees
As well as ensuring employees are adhering to the rules, cameras will also protect them in the event of a robbery, for example.Police have increasingly relied on surveillance cameras for capturing suspects. If WiFi cameras are in use, producing a live feed, any attacks on your staff will be captured as they happen and the perpetrators apprehended on the spot.
This will create a safer working environment as well as preventing the theft of items such as cash, office equipment and other items utilised by the business.
"29 percent of workers report falling asleep or becoming very sleepy at work"
4. Monitor whether health and safety regulations are observed
Hidden surveillance will monitor whether staff are complying with health and safety rules and if not, measures can be taken to ensure any errant behaviour is changed. In general terms, this will lead to a healthier and happier work environment and less staff sickness.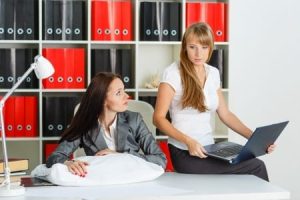 In the event of any specific breach of health and safety regulations, footage will be available to check what exactly has occurred. This would be particularly valuable in the event of legal action and could save the company money in terms of a fine or compensation claim, should it be proven a breach hadn't occurred.
Footage from surveillance cameras can help employers make fair and correct decisions when settling employee disputes.
5. Combat vandalism
As well as cameras for monitoring inside the workplace, there are also a number of outdoor surveillance cameras made for watching entrances and other external, sensitive areas.
Manufactured to look like electrical boxes, hose reels or even rocks, exterior hidden cameras are ideal for protecting against vandalism and theft. Totally weatherproof and motion activated, they are fitted with long-life batteries which can last for up to one year.
A night vision, vandal-proof camera is particularly useful for monitoring the business's exterior entrance without the risk of it being tampered with or destroyed.
A professional CCTV system can enable several cameras to watch over every aspect of your business, both inside and out. A multi-camera system enables you to watch and store footage from a central monitoring station.
6. Employee rights
It's worth noting the importance of ensuring employees' rights are not breached by the use of hidden surveillance equipment, particularly if any footage is being used as part of a disciplinary procedure.
A system must be in place whereby employees can voice any concerns in confidence, being given the opportunity to explain or question any footage.
It's a case of striking the correct balance between protecting your business interests and also ensuring employee rights are not adversely affected.