Can You Trust Your Employee?
Do your employees ever look shifty when you enter the room? Have you ever noticed things to disappear with no explanation, and when asked, your workers seem clueless? Research shows that many employers are unaware of how their staff behave when they are not present. This can lead to serious productivity issues and even expenditure. Deploy spy products on your employees to ensure your business is at its best all the time.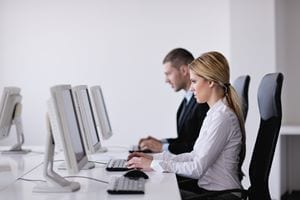 Did you know that around 60% of employees admit to visiting non-work related websites during working hours? You can track this with a simple PC Monitoring device, allowing you to track all of the uses your company computers are being put to. With these computer monitoring devices and software you can keep an eye on and discipline any slacking workers.
Easily Discover What They're Up To With Spy Products
It is not just on the web that employees may be under-performing or committing misdemeanor and we have spy products to catch these acts. If they're betraying your trust on the web, what else might your staff be doing when you're not looking? Shocking findings show that approximately 50% of stock loss is due not to shoplifters, but to employee theft. Catch them with spy devices today and protect yourself from would be thieves.
Your business could be losing serious amounts of money each year simply because you don't know. Deploying CCTV will prevent any dishonest employees stealing stock, or covert cameras can catch offenders in the act. An effective Wall Clock Spy Camera will not arouse any staff suspicion so you can cut employee theft effectively.
Do you feel you know what your staff are talking about during working hours? Ever overhear snippets of conversation that are far from work-related or productive? Irrelevant chat can be time-consuming and look bad for a company image. A brilliant product like our Air Freshener Voice-Activated Recorder can store all of the conversations of unwitting slackers for you to listen to later and act upon.
Laws & Legislation With Spy Devices In The Workplace

Of course, you must abide to privacy and spy laws when implementing spy equipment to monitor employees. Filming in locker rooms and toilets is strictly illegal. You can only record staff at work in public space, and in shared access places like offices.
But, with fair use and care, spy equipment could help you find out which of your employees aren't doing their job, and can make you business twice as effective. Don't trust under-performing employees any longer, use one of our purpose-built spy devices to reform your company's productivity.
If you are unsure on the laws regarding workplace monitoring and spying on employees talk to us today. Our team of established surveillance professionals will talk through spy laws and employment with you – contact us today if you are an employer and believe that an employee is going behind your back.
Spy Equipment UK offers free and impartial advice on these types of situations and, what's more, we will also inform you of the best devices to help you uncover the truth without raising any suspicion at all.