Covert Earpieces Ideal For Magicians, Actors & Other Performers!
Within our vast range of spy equipment and anti-surveillance equipment, we have covert earpieces that are perfect for performers such as magicians and actors. These devices are from the secure communications section of our counter surveillance range, as they can also be utilised by professionals such as private investigators, to ensure they remain safe during a covert operation. In this article, we take a look at both of the devices in detail and explore why they are suited to performers.
2 Covert Earpieces For Performers
In our counter surveillance range, you'll find two covert earpiece products that are ideal for performers, including magicians and on-stage actors. These are the most widely available and advanced offerings on the market today. Spy Equipment UK has developed each of the devices to ensure the best level of performance for performers and to make their job easier! Below, we take a look at why each of these products are advantageous for performers, before providing an insight into some key features of the devices.
Why The Wireless Earpieces Are Perfect For Performers
What makes these wireless earpiece devices so useful for any type of performer? Well, the earpieces connect to common electrical devices, such as phones, which can contain recordings of scripts or lines etc. These files can be fed through to the performer via the earpiece, to ensure they never miss a prompt or fail to deliver a line again.
What's more, as devices that fit snugly in the ear and are virtually undetectable, the performer will not run the risk of drawing criticism from the audience. So, to put it plainly, these covert earpiece devices help performers deliver to the best of their ability without being foiled by those that are in attendance.
Invisible Wireless Earpiece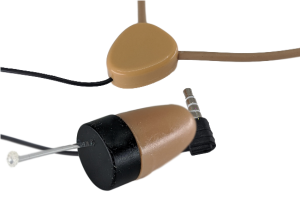 Firstly, we are going to focus on the Invisible Wireless Earpiece. To utilise this device effectively, the user will insert the jack plug into the device that holds the recorded files – we'll use a smartphone as an example. From there, the performer will conceal the smartphone in a pocket or elsewhere on their person before placing the loop around their neck. Lastly, the user will then ensure that all the wires are hidden before inserting the wireless earpiece into the ear canal.
Once the set-up is finalised, the performer can access the sound recordings as and when required. Now that you're familiar with the set-up of the Invisible Wireless Earpiece, let's take a look at some key features of the device:
The earpiece is powered by tiny replaceable batteries, one of which comes as standard
The earpiece can be active for up to 5 hours on a single charge
The neck loop contains a 230mAh internal battery
The types of performers that have made successful use of this device include lecturers, magicians and on-stage actors.
Bluetooth Covert Earpiece
Onto the Bluetooth Covert Earpiece, another device that sits covertly in the ear and helps performers remember what they've prepared prior to the performance. This device is a completely wireless earpiece and is extremely easy to use. To use it, all performers have to do is pair it with their phone (or whatever bluetooth-enabled device they are using), ensure access to the recorded files, place the neck loop on and pop the tiny earpiece in.
When these set-up stages are sorted, the performer can be safe in the knowledge that they'll receive 'live' audio prompts. Whilst the recording of lines and educational material is highly beneficial to actors and lecturers, the 'live' information element is impactful for magicians, who may be required to improvise on the spot. Here are some essential things to know about the Bluetooth Covert Earpiece: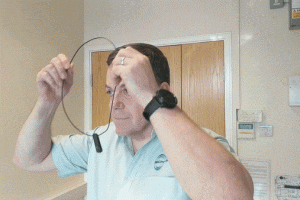 An operation time of between 2 and 3 hours
The earpiece makes use of Jabra and Plantronics sound technology
The batteries used in the device can be bought from well-known retailers and online, so there is no need to wait for specialist batteries. The device comes with two batteries as standard
Included in the order is the earpiece a miniature cell battery, the bluetooth enabled neck loop, a charge cable and magnet
No specialist knowledge required, but we are available for support if required on 024 76 010588 or

[email protected]

.
This device is deemed to be more advanced than the Invisible Wireless Earpiece, but both options present an extremely handy option for performers.
Are You A Performer? Try These Earpieces!
Whether you are a magician, actor, any other type of performer or a lecturer, these devices can really assist in helping you perform when it really counts. If you have any questions for our team about the two covert earpieces featured in this article or you'd like to enquire about how the devices can apply to your given profession, please contact us by phone, email or contact form.