Hidden Voice Recorder – Essential Spy Tech
In the scheme of things, using recording devices for surveillance and monitoring purposes is often regarded as being of power importance as opposed to capturing events on camera. Of course, as a general rule, using a covert camera to capture essential evidence is the best case scenario, especially considering the fact that all modern day covert cameras available from us for use in the UK, also have a sound chip – or hidden voice recorder – capable of obtaining decent quality audio files.
The Power of A Hidden Voice Recorder
Here at Spy Equipment UK, we have never underestimated the importance of the voice recorder and that is why it is no mistake why we have developed and built a superb range of hidden voice recorders concealed within every day commonly found items. Not only have we created new recording products, such as the Clock Voice activated Recorder and the Air Freshener Voice Activated Recorder, but in addition, we have updated and upgraded our existing recorder range.
So why is it that the Spy Equipment UK team regard gathering intelligence and information by voice recording as so important? There are a number of reasons behind this fact. Using hidden cameras to gather evidence can be somewhat restrictive in that it is essential to place the camera lens in a position to view the intended subject of the evidence gathering. This is not always easy to judge and in many circumstances it is almost impossible to install a camera system without specialist knowledge and expertise, such inside a car. Hidden voice recording devices can be placed hidden from sight, such as our Enduro Black Box Recorder, which with the optional deployment magnets can be attached to the underside of a metal-framed table or car seat.
Spy Tech Shopping Advice
In addition to placement of a camera, there is also the consideration of power needed. Camera systems draw far more power than pure audio recording devices, especially HD cameras that are particularly power hungry. The result is that often covert cameras need a mains power connection of a large battery pack to get extended usage, whereas some of our battery powered hidden voice recorders have the ability to work for extended periods of time without the need for a battery recharge.
Finally, there is the matter of audio quality and sensitivity. On a camera system, more often than not, the microphone is not quite so sensitive as a pure audio product, which means an audio recorder can pick up on sounds or maybe conversation from a much wider radius. And because a DVR system has to cope with primarily video with audio being secondary, the quality of the audio recording is as a general rule not quite so good.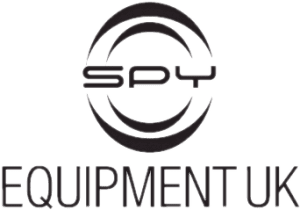 All of these relevant factors ensure that the hidden voice recorder is still one of the most essential pieces of spy and surveillance technology for any intelligence or evidence operation. Contact us to learn more about the power of a hidden voice recorder, or to talk about any of the systems in our listening devices range.