View Our Hidden Spy Camera Collection
At Spy Equipment UK we have a large range of spy cameras available for you to take advantage of. We may not even realise but we are recorded by CCTV almost everywhere we go in the UK, but we are at least aware of the existence of the CCTV. However, a hidden spy camera is creatively designed to by invisible to the naked eye meaning that nobody would have a clue that there was a camera there and that they are being recorded. The technology used within hidden products make them as good as, if not better than CCTV which can often be blurry and poor in quality. Take a look at some of our most popular hidden spy cameras and see what you think.
A Leading Hidden Spy Camera – Spy Wall Clock Camera
To everyone else looking at this product, it is simply a wall clock and so it does not cause suspicion, it even works as a wall clock. The wall clock camera contains a small pinhole camera that will capture the footage shot in front so you need to consider its position on the wall so that it maximises the footage captured. With a micro SD card recording system and a 640 x 480 resolution, you can be sure of the highest quality footage. This clever piece of camouflaged technology is ideal for recording employees to ensure they are behaving in a professional manor and working to the best of their abilities. It is also a great way to catch any potential thief or mister meaner that you may be suspicious of giving you the hard evidence you may need. The clock can be installed in any area you like from a business environment to your own home.
Secret Table Lamp Camera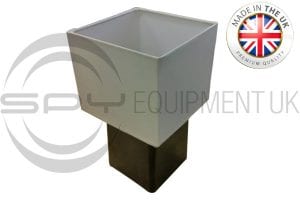 The table lamp camera is ideal for use within the home. This prod is so discreet that there is no way of someone discovering it. You may want to use this clever hidden camera to capture footage of your home if you suspect a husband, wife or partner of infidelity. It can be ideally placed in a living room or bedroom to capture any evidence you may need. Using SD card technology, it can use motion detection, scheduled or manual recording options giving you flexibility in recording. The lamp with hidden spy camera can also be used without the recording device active allowing you to use the lamp when the camera is not required.
Covert Hidden Cameras
As well as the two popular products above, Spy Equipment UK also offers covert cameras in the form of air fresheners, drinking flasks, alarm clocks, i-phone docks as well as smoke detectors and tissue boxes. We also have a range of portable hidden spy cameras which are suitable for recording footage whilst on the move.
Hidden cameras are great for capturing footage with discretion whether it is for evidence or for mystery shoppers. Contact us to discover more about any of the hidden spy cameras featured in this news article.