Introducing The Mini Car Security Camera
The newest addition to our ever expanding portfolio of spy equipment products comes in the form of the Mini Car Security Camera, which joins our extensive spy cameras range. In this article, we take a closer look at our latest product and reveal the key features that make this product worthy of a place on the Spy Equipment UK website.
An Overview Of The Mini Car Security Camera's Uses
This newly developed hidden spy camera is a sophisticated device that has been designed to be deployed without raising a hint of suspicion. Technologically advanced and with a vast range of features that facilitate evidence gathering, the Mini Car Security Camera is the perfect to use in any capacity. Whether you require evidence for personal purposes or you are deploying it to help gather evidence for your organisation, the results will be high quality and conclusive.
First and foremost, the Mini Car Security Camera will capture events that take place within the vehicle. However, when positioned correctly, it will also capture footage from the immediate surrounding areas outside of the vehicle. This capability makes it an ideal device for both protecting the car itself and capturing ongoings from within.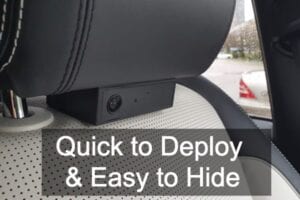 Key Features of The Mini Car Security Camera
The latest addition to our hidden spy camera range is battery powered, can record footage through glass and has terrific low-light recording ability, making it the ideal car security camera. Whether deployed in a car, van or lorry, this device provides extra protection and security at any time of day. Aside from these essential features, the Mini Car Security Camera also contains the following features and attributes:
A high quality 120º wide angle lens. The superb field of view enables users to capture footage from all around the deployment area.
The device has a standby time of up to 30 days, making it a great tool for long term use.
Motion activation system – capture events taking place outside the vehicle through the use of motion detection.
Full HD video resolution – 1080p (1920 x 1080). The footage that you do capture will be clear and decisive, allowing you to process it properly.
The dimensions of the product is only 90 x 58 x 26mm – a super compact device that won't turn heads.
Personalise your use of this spy camera. It has a fully customisable, downloadable widget with a menu, so you can select the features you want to use and those that you don't.
If you're concerned that this device may be too complex and hard to use, don't be! The plug and play technology is very simple to set up and operate, meaning you need no specialist knowledge to use the device at any stage.
Upgrades Available With this Mini Security Cam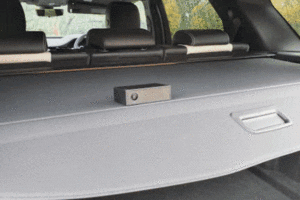 The Mini Car Security Camera has a micro SD card recording DVR system, which can be upgraded to suit your requirements. As standard, the device comes with a 16GB card. However, if you require a larger card, to capture more hours worth of footage, Spy Equipment UK can provide you with the updates. Here are the different micro SD card updates that we have available with this new device:
Upgrade to a 32GB card for an extra £12.
Upgrade to a 64GB card for £18 more.
Upgrade to a 128GB card for an extra £24.
Upgrade to a 256GB card for £30 more. This is our largest offering, which can record up to 156 hours of footage.
If you would like to upgrade the SD card to any of the above options, simply use the 'package options' drop down and select your chosen card.
Order This Hidden Spy Camera Online Today
If this particular product is suited to what you are looking for in your given situation, you can order it online from Spy Equipment UK today. Alternatively, if you have any questions about the uses and functionality of the product, contact us and we will be happy to help you further. Looking for a hidden spy camera device but the Mini Car Security Camera doesn't meet your requirements? Browse our complete range of cameras via our spy cameras – view all section and find the right device for you.