Keep Employees in Check with Car Trackers
If you're a business owner, you will recognise the importance of ensuring that staff members are going about their work in an efficient and honest manner. Unfortunately, not every employee is trustworthy, and when you're incredibly busy running a company it can be difficult to keep tabs on everyone in your workforce. Car trackers can be a real solution today.
If your employees work off-site or use company vehicles during work hours, this can be even more difficult. However, with car trackers, you can monitor not only how staff are using your vehicles, but also how well they are doing their job.
Monitoring Economical Driving With Car Trackers
Car trackers are used by millions of businesses across the world to create a fleet tracking system that enables company owners to track how their business vehicles are being used. With a car tracking device, you can see whether employees are driving in a fuel-efficient manner, enabling you to save a huge amount of money on petrol, and aiding the environment.
You can see when vehicles are idling and the speed and nature of their driving. This is great for ensuring safe practice and money saving. A vehicle tracker like our completely water-resistant and sturdy GPS Evolution Vehicle Tracker is great both for jobs involving manual labour and harsh working conditions, and normal everyday usage.
This incredibly powerful device is activated using a mobile phone, and we even include a SIM card to work it with the package! This enables reliable and limitless tracking as the SIM is dedicated to the purpose of transmitting positional and usage data. You could also use Spy Equipment UK's web-based tracking console, FutureTrack, and set up sophisticated fencing that sends you alerts when the vehicle moves outside of designated allowed areas.
Tracking the Whereabouts of your Employees at Work
Devices such as our Micro Tracker are tiny and inconspicuous, so employees won't have any idea they are being monitored and you can find out exactly what they are doing, whether it be for your own information or evidential purposes. This gadget is commanded by your mobile phone via SMS messages which you can send, receiving replies with GPS locations and other information. These locations are detailed and feature links to Google Maps pages so you can see exactly where your employee is on Street View, which is ideal in situations where you are concerned about their activity when they are supposed to be working.
You can either set it to auto-track in work hours, or to be motion-detected, so that you receive an alert as soon as the vehicle and the tracking device moves and can begin tracking. This is great for if you suspect company cars are being used for non work-related purposes, for example outside of work hours.
Prevent Security Breaches with Vehicle Trackers
Recent University of Florida research suggests that 47% of retail loss is caused by staff theft. In many cases, a hidden camera is a great way to ensure the security of your business goods to deter, and collect evidence of, theft. However, if, as with increasing numbers of businesses, many of your employees work off-site or use company vehicles to travel for work, vehicle tracking is a very efficient way of quickly detecting suspicious behaviour.
A car tracker can allow you to monitor where your employees are, so that if they drive into suspicious areas, you will be alerted. For example, many data breaches occur due to an individual within a company accepting bribes from competing businesses to share your confidential information. If you see an employee drive near a competitor's headquarters via GPS tracking updates, you will immediately know they are up to no good and be able to prevent information being shared, protecting your company.
Consult Our Experts – Tracking Devices For Employees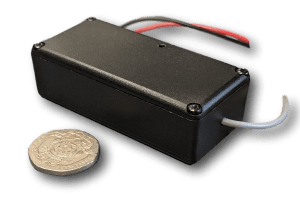 If you'd like to find out more about how information breaches have affected businesses in the UK, please contact us.
If you have any concerns about how your employees are performing during work hours, don't allow your company to be put at risk by incompetent staff. Invest in car trackers now and save yourself a lot of time, stress, and potentially money, by successfully monitoring your employees, wherever they are, at all times. You can see a list of all our tracking devices via our view all tracking devices page.