Keep New Drivers Safe with a Car Tracker
Many of us moan about irresponsible or inexperienced drivers on the roads, and occasionally feel concerned about the danger some new drivers may present to themselves and others. Whilst the majority of young drivers are conscientious and aware, there are a select few who may need an extra bit of monitoring when they first take to the roads. In this article, we look at keeping new drivers safe with a car tracker.
Find Safety in A Clever Car Tracker
Extremely high insurance rates for young individuals driving tend to encourage safe driving, and now those with a new license can choose to have a car tracker fitted in their vehicle to lower the cost of insuring their car. If you're worried about your child driving, you can install a sophisticated version of these devices – a car tracker you could find in our range – yourself to make sure they are safe.
Car tracking devices
tend to allow a third party surveyor to keep tabs on the speed and handling of a vehicle as used by a driver from afar. The typical 'black box' car tracker insurance companies provide usually only serves these basic functions. However, if you're concerned about a loved one, it is understandable that you may want to gather more detailed information. When young people start driving it's a huge boost of freedom, which is brilliant for building confidence and independence, but can sometimes mean you are potentially concerned about their whereabouts. This is no longer the case with a car tracker.
How Vehicle Trackers Work
GPS vehicle tracking provides all of this and also uses signals from satellites to allow you to locate the vehicle's exact location whenever required with a simple text to the device. You'll receive a response with a Google Maps location, showing you where the car is. This lets you know if your child is driving where they claim to be, and if they are safe. Many tracking devices are even motion detected so you can set a function to send you a message when the vehicle begins moving. There is also an option to let you receive automatic location updates at intervals of up to 20 seconds for all-pervasive monitoring.
Another use for car trackers is to keep tabs on economical driving. You are able to monitor fuel usage and whether the driver is handling the vehicle in an economically-conscious manner, as well as time spent idling and wasting energy. This brilliant functionality could allow you to save significant amounts of money of fuel whilst teaching your child about the importance of fuel economy. Keeping your family safe on the roads is incredibly easy with a car tracker gadget.
An Example Car Tracker from Spy Equipment UK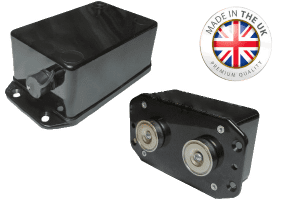 The GPS Evolution Tracker enables users incredibly advanced limitless tracking with a provided specific SIM card to contact the device very quickly without interruption, and a specialised web-based console, FutureTrack. This offers impressively detailed Google Maps and Google Street View real-time tracking, available on all devices, and auto-fencing options so you receive notifications whenever the driver goes out of a designated area. Alternatively, a Micro Tracker is tiny at only 45g, and can be fixed subtly to the car without the driver noticing, so you can receive monitoring updates regularly to keep your mind at ease.
If you're worried about the safety of a family member on the roads, there is no more guaranteed way of monitoring their whereabouts and driving than with a car tracker. Invest in a vehicle tracker now and never worry about your child's road safety again! If you'd like specialised advice, contact us now and we can guide you towards the right product for your needs.