Latest Developments to the Bluetooth Covert Earpiece
We are always busy thinking of ideas on how to improve our products even further, to give you the best equipment to use day in, day out. Making slight, subtle changes to the already phenomenal ability of our surveillance and covert communications devices provides you with products that can go the extra mile in terms of evidence gathering and audio capture.
The recent changes to the Bluetooth Covert Earpiece make it even more of a powerful tool that can be used in virtually any scenario, both professionally and by those with little investigator experience.
What's New About this Covert Communications Device?
The latest version of the Bluetooth Covert Earpiece enables communications to be even more covert, following the implementation of two things:
Class-Leading Plantronics
Jabra Technology
The installation of these two advancements means that, ultimately, the quality of secure communications has been heightened, while Bluetooth capabilities have developed. This device is designed for covert communication by pairing with a phone, or any other Bluetooth enabled device, which allows the user to listen to recordings even on a Bluetooth enabled MP3, for example.
Despite these developments, we have kept the price of this device – which is ideal for undercover surveillance purposes – extremely competitive at just £149. What's more, this covert communication device< can be shipped to you within 24 hours and can be in operation as soon as you like, with its extremely simple setup.
Other Key Competencies of this Discreet Surveillance Tool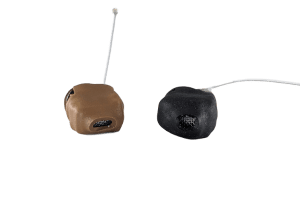 While we have added these two new aspects to the covert communication device, it still retains all its other elements, including the following:
This discreet Bluetooth earpiece is powered from tiny batteries within the earpiece, of which two are supplied by us at Spy Equipment UK.
The dongle has a leading high gain microphone fitted, which also contributes to the delivery of crisp audio.
It has an internal lithium rechargeable battery, which provides over five hours of operation time.
The complete package: this product comes with miniature cell battery, Bluetooth neck loop, charge cable and magnet (as seen in the image).
An Earpiece that can be Used by Surveillance Professionals
Not only is this non-assuming covert earpiece perfect for deployment by anyone in any walk of life, but is the ideal tool for covert surveillance professionals. For those who need to ensure secure communications while out and about or who require a device to counteract someone suspected of keeping close quarters on them.
The Bluetooth Covert Earpiece enables someone to discreetly communicate with someone from afar, to listen in remotely and gain valuable audio feeds from the person you're connected with.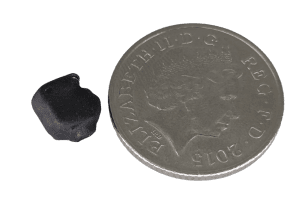 A New & Improved Device from Spy Equipment UK
The covert communications device featured in this article can not only be used by surveillance professionals but can also be used across several other professions. Examples come in the form of lecturers, who pre-record sessions, and actors or presenters that are performing live.
Contact us if you wish to learn more about this device or head to the dedicated product page to order it today. We offer our customers the option to pay with PayPal. This means that you can pay for the device, and any other of our spy devices that cost in excess of £99, in installments.