Our Newest Voice Recorder – Fitness Watch
We have a brand new arrival in our range of voice recorders. Say hello to the impressive Fitness Watch Voice Recorder, a device that we will be focusing on in this article. This is yet another device from Spy Equipment UK that can be utilised in any domestic situation without causing the slightest of suspicion. Read on to discover more about the latest addition to our growing recording range and to learn of its key features.
Use This Sports Watch Voice Recorder Anywhere
Nowadays, fitness or sports watches are so commonplace that no one will stop to take a second look at yours when you're out and about. Even if someone were to inspect our fitness watch voice recording device closely, the likelihood is that they wouldn't suspect it of being anything more than it appears on the surface. The voice recording unit is wholly concealed within the fitness watch itself, leaving no trace of how it got in there!
In addition, there are no flashes or beeps to signify that the device is in operation, meaning there is no chance of unwanted attention from those around you. So, whether you are jogging in the park and wish to record someone nearby, are at home with your sports watch on or wearing it in the workplace, the discreet nature of the device will steer you clear of suspicious onlookers. As our voice recorders range continues to expand, we continue to offer devices that simply resemble everyday items but have special capabilities.
Key Features Of The Fitness Watch Voice Recording Device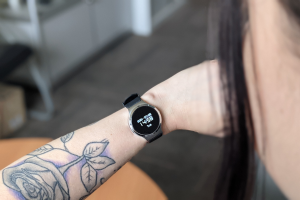 Now that you're aware of the complete covert nature of this new device, you may be wondering what it can actually do. As an advanced voice recorder, the fitness watch has a variety of essential features that contribute to its high performance. Below are just some of the features that make this the most sought after sports watch recording tool today:
Digital LED display
Instigate and desist record mode with the simple click of a button on the device
Pick up voices from up to 6 metres around you
Total recording capacity of 96 hours with 8GB internal memory storage
Time and date reference on every recorded file
Compatible with all Windows systems and Mac OSX
Takes just 60 minutes or less to charge
No signifiers that the device is recording, discreet operation guaranteed
Wear and forget design
Comes with USB lead and earphones, for playback purposes
Wear & Forget Design For Peace Of Mind
The device has been designed to 'wear and forget', meaning you can get on with your day in comfort and have peace of mind about not being caught using a voice recorder. The watch is extremely lightweight, so not only will others not know that you're recording audio but you'll also barely realise that you're wearing it. It also has a rubberised strap for comfort.
Although we can't guarantee that the device will operate exactly like a standard fitness watch, there are abilities that the sports watch voice recorder has that will make others think it's just an ordinary smartwatch. For example, when you hit a button, the time and date will appear on the screen. In addition, the device includes a step counter for authenticity, although we can't guarantee that it is 100% accurate.
All of these elements combine to form the wear and forget design. Not only will you be comfortable wearing it in a literal sense, but you will also feel at ease about not giving the game away. Simply put it on, enable the voice recording functionality and forget that it's around your wrist until the time comes to review the recordings.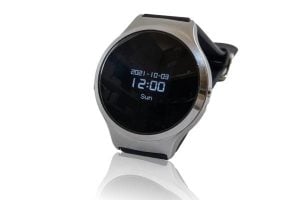 Order The Fitness Watch Voice Recorder Here
If this particular voice recording device has piqued your interest and you think it may be useful to help you prove something or gather evidence, you can order it online through us. If you have any questions about the device and its uses, please don't hesitate to call us on 024 7601 0588. This really is the cutting edge of voice recorders and we are proud to have it in our range!