Product Release – GSM Enduro Live Listening Device
We have recently released a brand new product in the form of the GSM Enduro Live Listening Device. Here we will take a look at the features of this sophisticated piece of equipment and the scenarios in which you may find it useful. We always inform our customers of any new products or revised products, with the view of providing them with the best pieces of spy equipment for optimum results.
A Worthy Addition to our Listening Device Range

As with all of the listening devices we sell, the GSM Enduro Live is designed to be adaptable and versatile – in terms of the variety of situations it can be utilised in, as well as the internal elements that make it such an intelligent device. Derived from the Enduro Black Box Recorder, which is our all time bestselling recording device, this listening device is perfect for both professional and domestic use.
It is a powerful tool, yet simple to use and therefore easy to understand when in action. We are delighted to bring this to market and are equally as excited to see what impact it has when used in a multitude of different environments.
Some Essential Elements of the Enduro Live
Here we look at just some of the fundamentals that make the Enduro Live Listening Device such a stand out addition to our voice recorders range. The Enduro Live boasts the following features:
This listening device is essentially a long term audio bug, ideal for deployment when your unsure of exactly when your window of opportunity may come about.
'Listen live' to what's happening in the environment in which it is placed.
It uses a simple 'plug and go' technology – no complicated set up, maintenance or analysis required.
You can call this listening device from any mobile device, or landline, and it will auto answer.
The microphone has adjustable sensitivity and records audio to an extremely high quality – you can even adjust the sensitivity remotely by simply using code in an SMS message.
Up to 20 days standby time.
Up to 18 hours of listening in time.
We also provide an alternative to the standard internal microphone in the form of an external wired microphone. This is the same microphone attached to the end of a one-metre long flexible cable. An ideal option for those who want the base to be completely hidden while maintaining a prime position for the microphone itself.
For a full list of this listening devices' features, FAQs and further product description, please visit its dedicated page. As a new product in the voice recorders range, this device can operate by itself or with another of our recording devices – if you wish to record audio from multiple locations.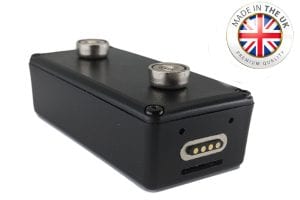 Voice Recorders & Listen-Ins for any Situation
This new device is small and lightweight, meaning you have the opportunity to discreetly place it in a number of places without detection. It also comes with magnetic attachments for secure and easy deployment. Position it in a home, office, in luggage or in any vehicle and watch it blend in with the surroundings!
Contact us if you wish to discuss your individual, personal situation and our team will treat you with 100% confidentiality while guiding you to the proper use of this listening device. Also get in touch with us if you are curious as to the capabilities of this device and its set of unique features. We look forward to bringing you further additions to our voice recorders range very soon as our manufacturing team continue their hard but rewarding work!
You can buy this listening device – or any other product across our many different ranges – using PayPal, meaning you can spread the cost on orders over £99! Just one of the ways that we make it easier for our customers to get their hands on the latest, most groundbreaking piece of technology in the spy industry.