Voice Recorder Development from Spy Equipment UK
Spy Equipment UK is pleased to introduce the new and improved Mains Socket Voice Recorder. We've developed yet another everyday appliance with the latest spy technology and have therefore enhanced the usability of this device for our valued customers.
We're continually seeking new, intricate and sophisticated ways to develop our products. Spy technology is ingrained in the DNA of our established organisation and the professionals who work so diligently to provide the best products possible. Read on to find out how we've researched and innovated to bring you an evolved product in the Mains Socket Voice Recorder.
Recording Devices From Spy Equipment UK
We see a lot of interest in our voice recorders range, from people in a variety of professions and scenarios. With this in mind, we work to install each and every hidden voice recorder with the most intelligent and effective set of features, while being conscious that it has to be simple to use for the end user.
New Advancements In This Voice Recorder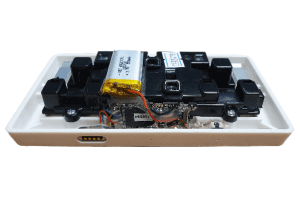 We have utilised a new base printed circuit board (PCB) for the new unit, which has meant improvements were made possible across several areas of this recording device. The Mains Socket Voice Recorder has been developed in the following ways:
The previous max deployment time was 24 hours, however, now it's 76 days – that's an astonishing 2.5 months!
This revised model now has time and date stamping on recorded files.
The recording capabilities have been developed following the implementation of a more sensitive microphone, thus giving crisper audio.
New model has magnetic charge/offload port as opposed to a standard micro USB, which undoubtedly improves ease of use.
The New model can fit in the standard depth back box, as opposed to the deeper type.
Key Features of the Mains Socket Voice Recorder:
Voice (sound) activation – meaning there's no wasted memory space with audio-less recordings.
This device has an In-built lithium battery that takes just four hours to fully charge.
Recording mode battery life of 72 hours – capture footage over a long time period with a single charge.
This hidden audio recorder has a memory capacity of 288 hours, that's 8GB.
The Mains Socket Voice Recorder is ideal for the long term surveillance of a room that has double wall sockets.
The new, more sensitive microphone has a sound pick up radius of up to 10 metres (33 feet).
Like the vast majority of our voice recorders, this device is compatible with both Windows and Mac computers – meaning there is no special software is required.
Spy Equipment UK – A Leading Spy Technology Provider
The Mains Socket Voice Recorder really is an everyday item with a difference, providing users with home and business security through its wide monitoring abilities. Head to our dedicated listening devices page to browse our full range of sub categories and products, and find the perfect voice recorder for you.
If you have any queries about this revised product, or regarding a different product throughout any of our product ranges, contact us on 024 76 010588 or via email at [email protected].