Why Use An Advanced & Versatile Car Tracker?
Here at Spy Equipment UK, we are continually striving to develop and release new and innovative spy gadgets, such as the car tracker featured below, that are manufactured in the UK. Some regular visitors will have noticed that in recent months we have launched several new products that have been thought-out and made at our premises in Coventry and let me tell you that we are not stopping there. In fact, we have only just got started!
GPS Vehicle Tracker – The Very Latest Car Tracker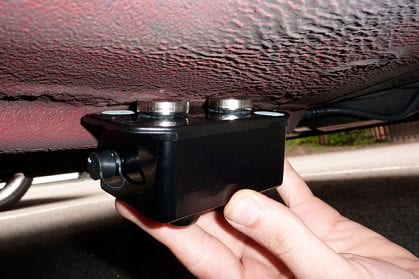 One of the products that we put together in-house and have done for some while now, is the GPS Evolution Vehicle Tracker. This tracking device is our flagship magnetic vehicle tracker that was designed to be feature-rich, but totally rugged, making it the first choice for Private Detectives and other investigative professionals, both in the UK and overseas. The tracking platform that this superb unit reports to has been developed over the years to fulfil the requirements of even the most demanding surveillance operative.
New Gadgets
Now I can announce that the GPS Evolution is ironically about to 'evolve' once more as car trackers becoming more accessible for people throughout continents. This new car tracker device will feature a new GPS chipset bringing a faster start-up response time and more advanced power saving capability, which will help to meet the needs of modern day tracking professional. If a new heart to the hardware is not enough to get excited about, then maybe the prospect of an all new mobile phone app enabling monitoring of the Evolution tracker and the surveillance team on-screen all at the same may sway the decision. One of the most popular uses for these devices is to track a cheating partner or unfaithful spouse as it is very easy to use and they would never suspect to check under their cars – this car tracking device could be the ideal tool.
Best Value Vehicle Tracker
Finally, previously there were those that complained the Evolution was a little expensive despite its capabilities, although it will probably not have gone unnoticed that we have driven the price down of the current unit in the past few months. When the new Evolution Vehicle Tracker is launched we expect to review the pricing again, so hopefully we will be able to surprise our customers even more! Whatever the decision on price, you can be sure that this amazing tracker will give value for money because unlike our competitors, we do not charge any ongoing top-up credit fees, we simply supply class-leading hardware and ask for a reasonable annual fee to maintain a class-leading robust tracking platform. It's that simple!
Find out more about how a car tracker works by reading our article How Do Vehicle Trackers Actually Work?