Bug Detectors & Sweeper Services To Ease Concerns
Do you feel as though you are being spied on at home, at work or whilst on the move? It is a common feeling for many in the UK and we talk to our fair share of people who feel as though they are being monitored by some form of spy or surveillance equipment. In this article, we explore how we can help put your mind at ease, by providing insights into our counter surveillance equipment and professional bug sweeping service.
Emerge From Your State Of Paranoia
The feeling of having prying eyes on you is not a nice one. The state of paranoia, which leaves you wondering if you can go about your day-to-day without your every move being tracked, recorded or captured on camera, can be all-consuming. Whether you are wary of spy devices that have been hidden in the interior or around the exterior of your residential property, conscious of devices being present in your place of work or suspicious of someone tracking your movements, the feeling of paranoia can really affect the way you live.
However, our team of former police officers and ex-private investigators at Spy Equipment UK are here to put your mind at rest, through the provision of bug detectors you can use yourself or our professional counter surveillance sweeps. Let's take a look at three of the best economy range bug detectors available to you today.
Three Bug Detectors To Put Your Mind At Ease
The following three bug detectors have been vigorously tried and tested by our team. They have been used by customers of ours for all intents and purposes in the past and are great tools for those who are paranoid about someone watching them, whether that is a hired private investigator or someone doing it on their own accord. These devices can pick up audio and video transmitters such as spy cameras, all types of listening devices and even tracking devices.
Bug Detector Combo – £222 Inc. VAT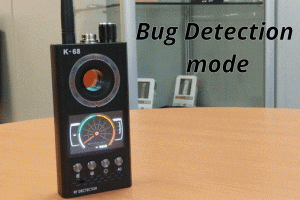 The Bug Detector – Combo is a fantastic, cost-effective solution that will tell you if you are being spied on. Our bug detector – combo requires no specialist knowledge of the device's functionality. Just simply take it out of its box and use it until you are satisfied with the scan. This particular device combines three separate pieces of technology, making it one of the most versatile and results-orientated bug detecting solutions on the market. Those three pieces of technology are:
A frequency scanner
A spy camera finder, which we also sell as a separate item
A magnetic field probe
Bug Detector – Profinder 1206i – £426 Inc. VAT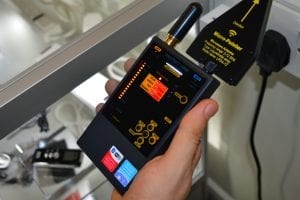 The Bug Detector – Profinder 1206i is an ideal device to use when scanning for devices in the home or at work. If you're paranoid or even slightly suspicious of someone snooping on you, the Profinder 1206i can help you put those thoughts behind you. Recently, we added sophisticated antennas and this new addition joins these key features in the constitution of this bug hunter:
Located both digital and analogue transmissions
Four working modes – sound, silent, vibration and mixed
20 hours working battery life
Recognises the following types of digital transmissions; GSM, Bluetooth, Wi-Fi and DECT.
Spy Bug Finder – £118.80 Inc. VAT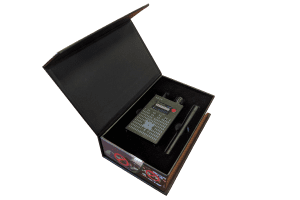 Lastly, our third featured bug hunter is the reliable Spy Bug Finder. This particular device is one of the most trustworthy economy range tools for detecting both wireless video and audio transmitters. What's more, it is pocket sized, making it the ideal device if you need to use it discreetly at any stage. Usually used in situations that are deemed to be of low threat, this device has the following features:
The ability to detects frequencies from 1Mhz and 8Ghz
Comes with USB charging lead
Adjustable sensitivity dial
The detected signal strength is displayed in the form of a multi-colour bar graph
If you are looking for a more advanced counter surveillance tool to help you find out if someone has indeed bugged an area that you frequently visit, please discover our Specialist Bug Detectors.
Our Professional Bug Sweeping Service
There is another simple yet highly effective way of definitively determining if someone is using equipment to follow your movements, our professional counter surveillance sweeping service. If you would prefer us to scan the environment that you suspect has a spy device hidden in, as opposed to using a bug detector yourself, we are always here to lend a professional hand.
We've carried out sweeps all over the UK and can guarantee total confidentiality when carrying out the service, just as we ensure confidentiality during any conversation with a customer. Our counter surveillance sweeping service will provide you with complete peace of mind, as we'll scour every inch of the suspected area, leaving nothing to chance. We use a variety of tools and specialist bug detection devices during our sweeps and always provide you with a detailed breakdown of the findings.
Our team of established surveillance experts have already carried out a number of sweeps in 2021. We are here to assure you that every precaution is taken during the sweep, in line with our Covid-19 safety protocols. If you wish to learn more about how we are safely carrying sweeps during the pandemic, contact us by phone, email or submission form.
Say Goodbye To Paranoia Today
If you have the feeling that you are being watched, it's time to do something about it and say goodbye to the lingering sense of paranoia. Whether you would just like a professional to talk to about your situation or would like to investigate the use of hidden surveillance equipment in your life, get in touch with our highly trained and experienced team.