Four Reasons To Shop With Spy Equipment
For nearly 20 years, we have been a leading manufacturer and supplier of high-quality spy equipment in the UK. We stock a range of innovative devices, from spy cameras and covert audio recorders, to counter surveillance and CCTV. Spy Equipment UK is based in the Midlands, but we ship our products all around the world.
Over the years, spy equipment has become so much more widely available to the public – this has both pros and cons. On the one hand, the public can now conduct their own investigations into wrongdoings, gaining the evidence they need to put the world to rights. On the other, people are at risk of using these devices illegally.
Using Spy Equipment for Good
While we do not condone the misuse of spy equipment, it's great to know that our equipment has helped people to prevent or expose injustices. Gina Owen, for example, who caught her elderly mother's carer abusing her on an air freshener spy camera. We have also helped people to catch their cheating partners in the act, and much more. A piece of spy equipment does have to be a costly purchase either – Take A Look At Our Top Budget Buys.
You might be thinking, what makes these guys so great? Well, we have five answers that we will encourage you to shop with Spy Equipment UK! Read on and discover the benefits of shopping with us and discover our article Times When Spy Cameras Really Saved the Day for more examples similar to Gina's.
We Are the Spy Equipment Experts
Put bluntly, we know what works and what doesn't. We know what features and capabilities people require from their devices, whether that's a wireless setting for their spy camera, or a real-time data monitoring system for their vehicle tracker. We have something for everyone and for every situation, from weather-resistant outdoor surveillance systems to hidden cameras in pens.
Our experienced team do all the hard work for you and we are here to offer professional advice and information about our products and services. If you are unsure about which product you require, or you have any general questions or queries, feel free to get in touch with our friendly staff members who can guide you in the right direction. You can get in touch with us on Facebook and Twitter or give us a call on 024 7601 0588.
We do More Than Sell
Unlike many spy equipment shops, we don't just supply and sell our products – we design, develop and manufacture a large percentage of them. Our expert team goes straight to the drawing board to come up with new concepts and developments, meaning our products are unique and constantly evolving.
Whether we are updating an old version of a popular device model; or inventing something entirely new, we love nothing more than coming up with new spy equipment ideas. Additionally, we can also create bespoke products based on our customers' specific requirements. Let us know if you had something in mind!
Fast and Trackable Service
When you purchase a product or service from Spy Equipment UK, we do everything we can to ensure it researches you quickly and efficiently. Many customers have commented about how happy they are with the speediness of their deliveries, from all over the world.
We also like to keep you updated during the delivery process. We will let you know when your parcel has been dispatched, right the way through the expected time and date of delivery. And, if you do find any fault or issue with your product, you can send it straight back and we'll fix it or send you a new one at no extra cost.
Why Shop With Spy Equipment UK? – Your Happiness is our End Goal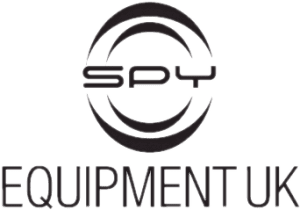 We want our customers to be totally happy with us, that's why we aim to make the process and easy and quick as possible. But don't just take our word for it, check out these reviews from some of our recent clients.
"I ordered the item on a Monday morning, the item arrived 08:30 on Tuesday, along with email instructions a few hours earlier. The instructions were very clear, the product does exactly what Spy Equipment said it would. An example of outstanding customer service, thank you." – Anonymous
"A pleasure to do business, Friendly staff and they certainly know their stuff. Would definitely recommend. 5 stars." – Michelle
"I made my order and was kept up to date with the entire process. My parcel arrived much quicker than I expected which was amazing!" – Flaminia
Read over 90 reviews customers have left about our company via the Spy Equipment UK Reviews page. Contact Spy Equipment UK today on 024 76 010588 or join us on Twitter and Facebook for all the latest news from us and the spy industry.