Times When Spy Cameras Have Saved The Day!
Spy Equipment UK would like to pay homage to the humble spy camera. It's small, discreet, covert capabilities have been used to capture harmful or dangerous content and put the world to right for many years.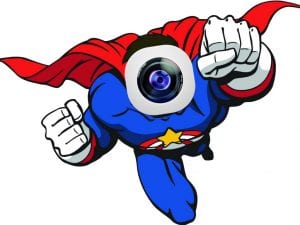 We do not condone the illicit or sordid use of spy cameras. When used properly and professionally, these devices serve as an effective method for helping governments, the police, private investigators and concerned citizens put an end to harm, crime and unwarranted behaviour.
While some people may find the footage they discover on spy cameras distressing or upsetting, without the use of a spy camera, the people conducting these terrible acts may not have been caught at all. In this article, we look at some of the ways in which spy cameras have helped us to make the world a safer, better place.
Below, we have highlighted some new stories that truly showcase the benefits of using the small yet mighty spy camera.
Spy cameras in the news
Parents expose abuse of autistic children
Suspicious parents living in New Jersey have attached a small spy device to their children to monitor the behaviour of staff and students at school – and their vigilance certainly paid off. The recordings highlighted the severity of abuse directed at children with special needs – this included shocking verbal abuse and threats from teachers and bus staff, among others.
The recordings led to several firings, criminal convictions and a number of successful legal settlements. In less than three days of recording, the video clip received 1.2 million views, raising huge awareness about this prominent issue.
Read more about how Parents used spy tech to expose abuse of special needs kids.
Fly-tippers in Falkirk
The council in Falkirk has employed the use of spy cameras to catch fly-tippers and dumpers in the act, in a bid to clean up the streets, housing estates, town centre, public spaces and play parks in the local area.
Having dealt with a number of litter complaints in the last quarter of 2016, the council are now using these devices to monitor a number of rubbish people drop, encouraging people to use allocated bins and make the region more environmentally friendly.
Read more on how the Council used spy cameras to catch fly-tippers.
Spy into the wild
A BBC wildlife programme is using spy cameras attached to fake animals in order to reveal the never-before-seen behaviour of our wildlife. A total of 34 undercover robotic animals have been placed in the animal world to monitor species such as langurs, orangutans, meerkats and crocodiles.
Already, the innovative spy cameras have caught some remarkable footage – a family of langur monkeys grieving over the impostor animal after believing they had killed it; a young chimpanzee adopting a genet kitten and treating it with care and love; and a tortoise attempting to mate with its robotic replica – clearly these animals are too realistic!
Read more about how spy cameras caught the BBC using fake animals.
Spy cameras given to volunteers in Punjab
During the 2017 Delhi assembly elections, the Aam Aadmi Party equipped a team of 15,000 volunteers with spy cameras in order to monitor potential illegal activity and put a stop to foul play from rival parties at polling booths. The spy cameras were purchased by the party to be used in various places in the slums and jhuggis in Punjab, in order to end illicit practices conducted by other parties such as buying votes through the distribution of money and alcohol.
Read more via Times of India.
BBC Springwatch camera catches a burglar
In 2015, a burglar was filmed trying to break into a house in an affluent area of South London. The hidden camera, which had been installed by the BBC Springwatch team to monitor urban foxes at night, caught Nigel Batton, 43, entering the back garden and breaking into the house at 3:45 am in January. Batton, who had already been caught breaking into a home in Herne Hill, was given a four and a half years prison sentence for this offence.
Read more about how a BBC Springwatch presenter planted a spy camera to good use.
Preventing elder abuse in Birmingham
In February 2017, a family who was concerned about the treatment of an elderly relative placed a spy camera in a care home in Birmingham to monitor care workers as they tended to the 77-year-old woman with dementia. The footage caught the care worker slamming the elderly woman's head into a chair, and spraying deodorant into her face. The care worker was immediately removed from the home and formally dismissed.
This is not the first time spy cameras have been used to capture such shocking treatment, and with many cases of elderly abuse being reported, spy cameras have played a huge role in ensuring the older generation are protected.
Purchase your spy camera with Spy Equipment UK
Before using a spy camera, we recommend reading our blog post on how to use spy cameras within the law. Alternatively, give Spy Equipment UK a ring to discuss the purpose of the spy camera and how we can help you choose the right model.
We stock a range of specialist hidden cameras for a number of scenarios – whether you require an outdoor camera that's weatherproof, a camera with infrared capabilities to record at night time or a portable camera that can be carried around on the go. Contact us today to discuss our products.