Savvy Body Worn Cameras for Any Situation
Our range of body worn cameras include some of the most versatile and effective pieces of spy technology on the market today. Suitable for a variety of scenario types, these devices provide high quality results while ensuring subtle usage.
It can be difficult to record instances discreetly when on the go, by simply attaching a camera to your person or getting your phone out while pretending to be using it for other purposes. Our development of these three products, however, facilitates the recording of those moments.
Record Footage on the go with Our Spy Cameras
A spy camera that goes where you go and sees what you see can help you capture important moments that need referring back to the future. All of our body worn spy cameras have been designed and developed so that users appear to be making use of an everyday item, appropriate to virtually any everyday environment.
A camera that you can attach to yourself and take anywhere provides you with the ideal tool to get fast, high quality footage – as opposed to a camera that depend on the subject coming into its vicinity to collect the result. We have selected three wearable cameras that make the gathering of information, footage and knowledge easy, but we have numerous portable hidden cameras that are just effective.
Camera Glasses (Professional Grade)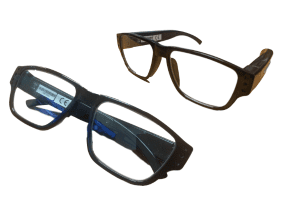 One of three spy glasses products in our body worn range, the Camera Glasses (Professional Grade) has a number of fundamental features that contribute to it being the perfect device to take out and about.
Usability | Start recording footage by simply clicking a silver strip, located down the left arm. A slight vibration will let only you know recording has begun – there's no visible indicator that others may be able to pick up on.
Adaptability | We've ensured that users will be able to change the lenses swiftly, making the fitting of prescription lenses a possibility. Flash memory as standard is 16GB – however we can provide  32GB memory at a reasonable, additional cost.
Smartwatch Style Spy Camera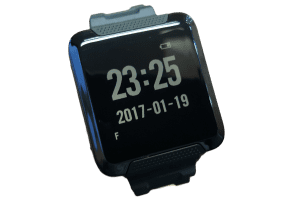 Providing a unique, highly effective way to record video throughout the day, the Smartwatch Style Spy Camera is a device that won't look out of place around anyone's wrist.
High Definition Video Footage with Colour | A resolution of 1280 x 720p and a rate of 30 frames per second.
Ease of Use | All functionality is managed by a diminutive, non suspecting button located on the side of the stylish watch. Turn the watch on/off and begin, pause or stop a recording with ease.
USB Spy Camera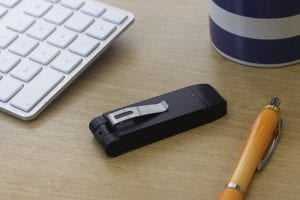 The USB Spy Camera is a lightweight, pocket size device that presents you with the opportunity to produce handheld recordings or to monitor ongoings while clipped to your person. Some key features of this product are:
Longevity | For such a small, handy device the USB Spy Camera has an outstanding battery life. The device has a recording capability of four hours as standard although a clip on battery back, which is delivered with the USB without charge, takes its capability up to a whopping 10 hours.
Efficiency and Reliability | The lens has an in built motion sensory, which detects activity instantaneously and records only when needs be while manual recording is also available. The sophisticated recording abilities of this device ensures that you capture every detail.
Tried and Tested Wearable Spy Cameras
We test each and every product before making them available to both surveillance professionals and anyone who requires such equipment for a specific, personal purpose. This is how we guarantee such high standards and why we're so confident that these spy cameras can have such an impact. Contact us today to discuss our range of body worn cameras range with our team or to tell us of a design idea that you think should be brought to market.