What To Look For When Buying A GPS Tracker
If you're searching the web for a reliable GPS tracker, but are not sure what factors you should be considering before purchasing, then you've come to the right place. The team at Spy Equipment UK are well versed in all things tracking devices, as well as having a wide range of products to suit your individual requirements. Within this article, we will advise on some of the essential features a GPS tracker should have, to ensure you pick the best one for you.
Spy Equipment UK's team of former private investigators, electrical engineers, technicians and security consultants have spent years providing the best quality tracking devices for our customers, so we know a thing or two about what makes a good GPS tracker. Keep on reading to find out more.
What Is A GPS Tracker?
Portable GPS trackers allow you to monitor the real-time location of whatever you attach them to, including assets such as:
Single vehicles or fleets
Bicycles or motorbikes
Valuable belongings such as laptops, handbags, packages and luggage
Your loved ones, for example a vulnerable elderly relative or child
Machinery, including industrial plants or tools
Electrical equipment
Mobile buildings, such as caravans or motorhomes
How does a GPS tracking device work?
Nowadays, most of us will use GPS technology daily without realising, for example when asking Siri how to get home, or asking a friend to share their location. Put simply, the Global Positioning System (GPS) uses satellite navigation to determine an exact location, so that it can transmit data to the receiver via a smartphone, tracker or navigation system. GPS trackers are becoming increasingly popular, with many people opting for these to track their vehicles, valuable belongings, or even vulnerable family members.
With so many tracking devices on the market, it is important you know what to look for when weighing up some options.
1. Accurate Tracking Features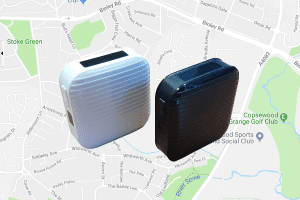 Firstly, you should establish what real-time tracking capabilities the device has. Some devices, like Spy Equipment's Micro Tracker, are set to report back their location in predetermined intervals, which may be as little as every 15 seconds.
Choosing the most effective tracking interval largely depends on your circumstances. For example, those wanting to track a vulnerable person are more likely to opt for a tracker with motion detection, that will alert a contact when an individual is on-the-move and will then send location alerts in shorter intervals. However, for those wanting to track machinery or large, high-value vehicles, such as caravans, motorhomes or boats over an extended period, will be better suited to a longer-life design, where an alert is sent once an asset has moved to another location.
To find out more about which tracking device is right for you, get in touch with our team of experts, who will be happy to advise you on each devices' specifications.
2. Tracking Device Design
Choosing a GPS tracking device with a design that is fit for purpose is crucial; you aren't going to want to choose a large, heavy tracker, that would usually be suited to vehicles, to track your laptop or handbag. Luckily, we have a variety of GPS tracker products within our range to suit your type of deployment.
Magnetic Car Asset Tracker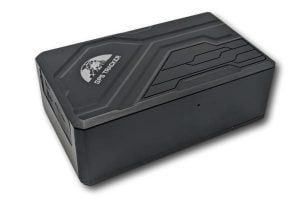 Spy Equipment's Magnetic Car Asset Tracker is perfect to attach to the underside of any vehicle because of its robust and durable design. The cell and GPS technology is securely sealed inside a tough water, dust and wind resistant case, to protect it from any damage.
In addition, the tracker has no on/off switch, to further ensure the tracker is completely waterproof, and also has a built-in magnet with excellent pull strength, so that it remains attached when on the road. For anyone looking to buy a reliable vehicle tracker, these are all fundamental attributes you need to consider. Other important design features, which can be found in many of our other devices, include:
Panic Button: people/VIP trackers should ideally have a reliable panic button included, so that the vulnerable person being monitored can alert a predefined contact in event of an emergency. It is a useful feature that will provide extra peace of mind to both the user and their loved ones.
Long Lasting Battery Life: another indicative feature of a good GPS tracker is a long battery life, as you wouldn't want your tracker's battery to expire during deployment. Battery life will vary from one tracker to another, but depending on the size and purpose of the tracker, it should at least last for a few days before needing a recharge.
Ease of Use: GPS trackers should not be too complex to understand or deploy, as not everyone needing one is going to be a surveillance professional. Instead, the tracker should be designed with minimal buttons and an easy set up process.
3. Efficient GPS Device Monitoring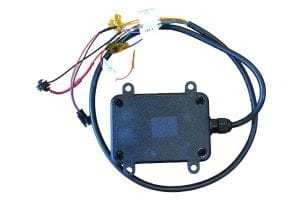 Typically, monitoring a GPS tracker is done via a PC, smartphone or tablet and a supplied app and/or web-based tracking console that encompasses Open Street mapping. These platforms should be password protected and should provide the facilities to offer accurate, real-time monitoring. For example, your GPS tracker should be pre-configured to upload its exact location to the platform.
Spy Equipment UK's GPS Patrol (Hard-Wired Tracker), for example, operates on FutureTrack, a popular web-based tracking console. This platform includes the following features:
Password protection
Screen auto-fresh
Geo-fencing
Email movement alerts
You can find out more about our tracking subscriptions online, or by getting in touch with our support team today.
4. Support From The GPS Tracker Experts
When searching for a high-quality, long-lasting GPS tracker, it is imperative that you find a reputable supplier with enough experience and expertise to correctly advise you on the most suitable device. Also, what is important, is that your GPS tracker is subject to a warranty period, whereby any faulty goods can be returned for repair, should there be an internal fault.
At Spy Equipment, our team of specialists all have vast knowledge of the industry and naturally treat every matter with strict confidentiality and discretion. The team is passionate about delivering bespoke security and tracking solutions to all of our customers, to ensure they are getting the best results. Further support we offer includes:
Secure payment options
12-month repair or replacement warranty period
Ongoing after-sales support
Discreet service and packaging
Reasonable prices on all of our products
You can learn more about us and the support we offer to our customers on our website, or get in touch with our team today.
Discover Spy Equipment's GPS Trackers Today
With so many GPS trackers available on the market nowadays, consumers are finding it difficult to find one that is not only easy to use and affordable, but actually works in the way they expect. For this reason, Spy Equipment UK is dedicated to offering a variety of reliable and effective GPS trackers that can be utilised in a number of situations, so that our customers can get the best results from their investment.
If you wish to learn more about all of our versatile GPS trackers, those mentioned within this blog post or any others we have available, please do not hesitate to contact us today on 024 7601 0588 or email us at [email protected].