Spy Equipment UK's Top Body Worn Spy Cameras
You may require a body worn spy camera if you need to conduct covert filming on the move. Mystery shoppers, journalists, government officials, private investigators and many more people could find these types of spy camera devices particularly handy.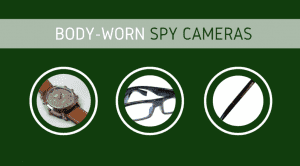 If you have a specific body worn spy camera in mind, get in touch with Spy Equipment UK and we'll arrange everything! However, if you are unsure about the best camera for your operation, we have chosen some of our top products below.
Top 5 Body Worn Spy Cameras
HD Video/Voice Recording Spy Pen
The high definition, high-quality Spy Camera Pen is one of our best selling products. It comes with video and voice recording capabilities and can switch between straight and motion activated modes.
This spy camera comes in a stylish design with a black and gold finish and is manufactured to look just like a standard pen. It is a little over 13 mm thick, making it the perfect slimline option for recording on the move. See more about the HD Video/Voice Recording Spy Pen.
Spy Watch Camera/Recorder (HD)
The high-tech spy watch hidden camera is the ideal body worn device and comes in a suitable design for males and females. This surveillance tool is smart, easy use and functions as a real watch – allowing you to tell the time as well as record video and voice footage.
This functional device features true HD colour video footage and comes with ample storage capacity, allowing you to record for hours. Its discreet build makes it the perfect covert monitoring device – see more about the Spy Watch Camera Recorder HD.
Spy Glasses Camera / DVR (HD)
Our spy glasses camera is a favourite portable hidden camera among our customers. These spectacles come with a discreet, built in DVR and are designed to be worn when recording video footage in 720p HD. They can be used by both sexes and are ideal for face-to-face surveillance.
Simple to operate and complete with a modern, lightweight design, these glasses are easy to use and begin recording at the click of a button. To find out more about the Spy Glasses Camera DVR / HD.
iPhone Cradle HD Spy Camera
The ultimate portable device, our iPhone Cradle HD Spy Camera features a discreet HD WiFi spy camera that's built into a case fitting the iPhone. This professional body worn camera is the perfect solution to on the move covert recording and is best used by police, private investigators and mystery shoppers.
The iPhone 7 Charge Cradle Camera has inbuilt WiFi capabilities to record footage directly onto the memory card that is installed. Battery life last around 180 minutes with no WiFi or LED's switched on (120 minutes without). See more info on this product.
USB Spy Camera
Compact, robust and straightforward – that's what people say about the USB Spy Camera. This superb device features an HD recording resolution of 1280×720 and an SD card for storing up to 128GB.
Good for use in conjunction with our other body worn spy cameras, this surveillance unit also provides a great flexibility in it's use, providing excellent surveillance both when carried around and when discreetly plugged in to a computer device. The battery life is up to 10 hours, allowing plenty of recording time.
Contact Spy Equipment UK
If you would like more information and advice on our range of body work spy cameras, call Spy Equipment Uk today on 024 7601 0588 or drop us an email at [email protected]. Alternatively, fill out our online enquiry form and we'll get back to you as soon as possible.