How To Find Hidden Cameras In Your Airbnb
You've finally arrived at your long-awaited holiday destination and are excited to see what your quirky Airbnb rental looks like in-person, but when you arrive, something feels slightly off. How can you be sure the place you're staying is completely private?
If you're worried about the presence of hidden cameras in your Airbnb rental, or you have found the perfect accommodation, but need some tips on how to ensure it is safe upon arrival, then keep on reading. We have put together a useful guide with some ways you can stay vigilant during your stay.
Hidden Cameras Are Commonplace In Airbnbs
Since its inception in 2008, Airbnb has become one of the biggest players in the holiday rental market. It challenges traditional hotel accommodations by offering an exclusive online peer-to-peer marketplace, which allows individuals to easily rent out their homes to guests looking for more unique, less expensive places to stay. Undoubtedly, this business model has a number of advantages for both the hosts and guests, but it does also bring some risks.
In recent years, there has been a significant increase in the number of Airbnb spying cases, where guests are finding hidden cameras and other recording devices in private spaces, such as bedrooms and bathrooms. In fact, a recent survey discovered that over half of Airbnb guests were concerned about the presence of hidden cameras in their rentals, and more than one in ten actually found one.
Nowadays, the risk of voyeurism is growing as surveillance technology becomes more advanced. In 2019, a family in Ireland discovered that their host was filming them using an extremely covert Smoke Alarm WiFi Spy Camera, after scanning the room for connected networks. As the device was connected to the internet, the host was able to live-stream footage, which poses even more of a threat to the guests.
What Are Airbnb's Security Camera Policies?
To help minimise safety risks for both guests and hosts, Airbnb has implemented a strict community policy governing the use of security cameras and noise-monitoring devices. Here's a breakdown:
What Airbnb allows: To provide extra protection against theft and damage, Airbnb allows disclosed devices monitoring public and common spaces in the rental, for example a front door or driveway. It is emphasised that the guests must be made aware of any cameras ahead of reservation.
What Airbnb forbids: To ensure guests' safety, Airbnb strictly forbids concealed and undisclosed devices monitoring common spaces, as well as any device monitoring private rooms, such as bedrooms, bathrooms, or anywhere with sleeping areas.
The rental company also encourages any guests who feel threatened or unsafe to firstly contact the local law enforcement, and then to get in touch.
How To Locate Hidden Cameras In Your Airbnb Rental
Since the team at Spy Equipment is made up of former private investigations, police officers and security consultants, we have plenty of experience dealing with cases of unlawful spying and invasions of privacy, and we recognise how distressing being a victim of such crimes can be. For this reason, we have put together a useful guide with some of our best tips to locating hidden cameras in your hotel or Airbnb rental.
1. Check All Rooms Thoroughly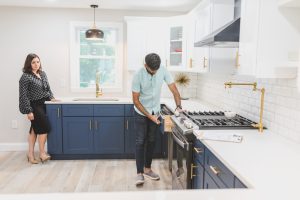 As soon as you arrive at your Airbnb rental, you should exercise precaution. Even if nothing seems wrong, it is important to properly look around all of the rooms to ensure there are no out-of-place or suspicious items. Whilst many peeping Toms will not be overly creative when deploying their spy camera, there have been occasions when devices are hidden in very obscure household items, like a decorative plant or a table lamp. We recommend you thoroughly check the following items items:
Smoke alarms
Alarm or wall clocks
Electrical sockets and plugs
DVD players
Computers or laptops
WiFi router
Also, make sure you double check cabinets, drawers and cupboards, as many hosts will take their chances hiding them in less inconspicuous places.
If you notice any abnormalities with items, for example connecting wires, camera holes or unnecessary lights, inspect the device and if you are able to, remove the batteries. You could also search the device brand and model online, to determine whether it is a spy gadget. If any items do raise suspicion, even if you think you're being irrational, it is a good idea to cover it for your own peace of mind.
2. Turn Off All the Lights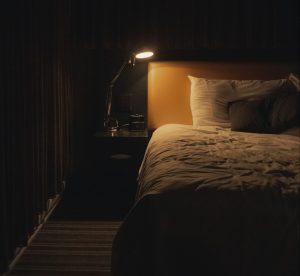 Another quick and more straightforward method of detecting hidden cameras is turning off all of the lights and drawing the curtains in a room. The less sophisticated spy gadgets will give themselves away, as they'll have a small flashlight that appears when recording.
Bear in mind that this method isn't completely effective, as many more experienced voyeurs will know to install cameras with no recording signal, or will purposefully turn off the LED light to avoid detection.
3. Consider Counter Surveillance Devices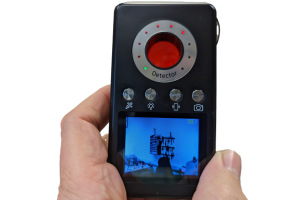 A more effective method, which will more likely work for any advanced spy cameras placed in your Airbnb rental, is the use of a counter surveillance device. You can find a range of gadgets on the market, for example the economy range bug detectors for those who travel a lot but have limited surveillance knowledge and experience.
One of our most popular counter surveillance devices is the Spy Camera Detector, which is both affordable and simple to use. This device combines leading pinhole camera detection, multi-phase infrared detection and lower-range RF transmission scanning, which enable it to detect both wireless and wired cameras hidden covertly in a room.
Or for those who have existing knowledge of the technology and have experience working in counter surveillance, you can also find more elaborate expert counter surveillance tools, which are extremely effective when it comes to bug detection.
4. Ask The Professionals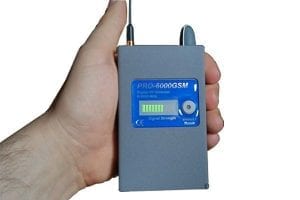 For those staying in longer-term accommodation rentals who are concerned their host is spying on them, it may be worth asking the experts for help. If you want to be absolutely sure there are no cameras present in any room, look into organising a professional counter surveillance sweep service. As part of the service, the surveillance experts will use market-leading specialist bug detection equipment, which will pick up a signal from almost any spy device.
5. Deploy Your Own Camera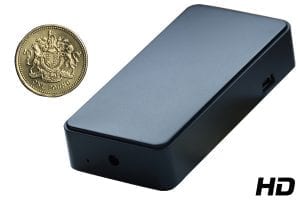 Finally, if you suspect you are being watched, it may be worth considering deploying your own battery-powered spy camera, so you can potentially capture the Airbnb proprietor coming in to either service their surveillance device, or to plant a new one. If you were to capture any footage, it could then be used as evidence to support your case. There may be legitimate reasons for the host to come into your rental during your stay, so at least you'll be able to establish this.
This may be a risky option, so ensure you choose a small, covert device that is unlikely to be detected, such as the Tiny Black Box Spy Camera. Always take care when using this approach, as you wouldn't want to put yourself or any other guests at risk.
For some more tips on how to protect yourself from hidden spy cameras, read our blog 'Airbnb Spying: The Complete Guide To A Hidden Spy Camera Epidemic', or get in touch with our team today for advice.
What To Do If You Find A Hidden Camera In Your Airbnb
If you happen to find either an undisclosed hidden camera in one of the common rooms in your Airbnb rental, or you find a device in any private room, including those with sleeping areas, then try not to panic. Whilst this may be easier said than done, it is best to approach the situation with a clearer head.
First, collect any important belongings and leave the rental as quickly as possible. It is hard to know whether the host will be spying via a live stream and if they were to realise you had discovered the camera in real-time, they might act unpredictably. Your immediate safety is paramount, so try and go to a nearby public area before contacting the police. We do recommend you try and get a picture of the camera before leaving, to use as evidence further down the line.
When you are in a safe place, notify law enforcement immediately, so they can start an investigation. Afterwards, get in touch with Airbnb's support team to make them aware of the incident, as in most cases, they'll quickly remove the host from their platform.
Should Cameras Be Allowed In Airbnb Rentals?
There has been an ongoing debate about how far Airbnb hosts should be allowed to go when it comes to installing surveillance cameras inside their property, before it compromises the guests' privacy.
As already mentioned, hosts are allowed cameras that are in common rooms and are disclosed to guests prior to booking, to protect their property and belongings. Despite controversy, Airbnb will continue to allow cameras in Airbnbs, to balance both the guests' right to privacy and the hosts' right to security.
We recommend you thoroughly read the description of your Airbnb and any other information provided by the host, to check whether there will be cameras. You will then be able to make an informed decision about whether you want to stay there.
Surveillance From Spy Equipment UK
If you would like any more advice on the best ways to approach a hidden camera in your Airbnb rental, or you want to avoid being watched with counter surveillance, please contact us today on 024 7601 0588 or email us at [email protected].