Spy Equipment In The City
Today's cities are alive with cutting-edge technology – cameras, smartphones, computers, etc. Streets, roads, homes and offices are all thriving hubs of digital innovation. Technology connects us – people, businesses and communities. It helps us to gather information and keep up-to-date with what's going on in the world. It is an integral part of our lifestyles. But what about spy equipment, and spy cameras in particular, in the city?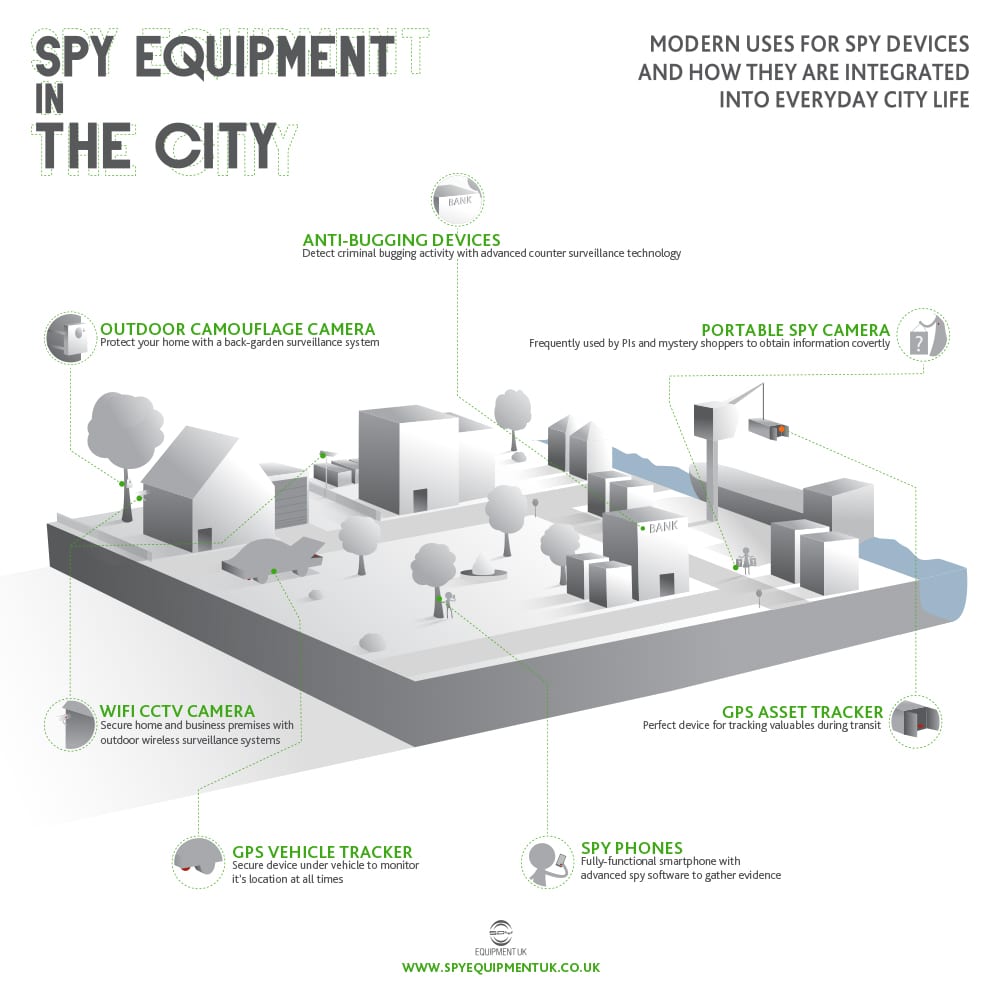 Equally as important as being connected, is using technology to protect ourselves and our premises; to obtain important information (or keep it confidential); and ensure the safety of our vehicles and valuables. This is where spy equipment plays a huge part in city life. In this article, we discuss the different ways in which spy gear can be used and integrated into everyday life in these urban environments.
Protecting the premises
Cities are a breeding ground for crime – larger concentrations of people in condensed areas, and greater affluence mean that many of us are walking targets for robbery and theft. In London, for example, the Metropolitan Police Service recorded 21,540 incidents of robbery between July 2015-July 2016.
Investing in a spy camera or CCTV monitoring system is an effective means of surveilling the areas surrounding the residential and commercial property. Whether you require a camera to keep your family safe, to monitor your home, to keep an eye on your garage, or to protect your business premises, Spy Equipment Uk has a spy camera for all of your requirements.
Our high-definition Outdoor Spy Cameras can be installed on any building and is easy to set up so that you can remotely monitor the area from anywhere in the world via computer or smartphone. For additional protection, the HD outdoor spy camera – Outdoor/Game can be mounted to the trees in your back garden to ensure you have all bases covered.
Be triumphant with a tracker
With over 370,000 cars stolen in the UK each year, it's no wonder that many of us are worried about the safety of our vehicles. Buying a car is a huge investment, and having it stolen can be a huge increment to any budget. Spy tracking devices are a fantastic way of monitoring the whereabouts of a vehicle and ensuring it can be located it if lost or stolen.
Magnetic Car Asset Tracker is a new device for the spy equipment market that is small, sophisticated and capable of so much. The unit provides comprehensive real-time and historical information without needing to implement specialist software. The device is magnetically deployable, and can be tracked via smartphone, tablet or desktop computer.
In addition, there may be occasions where valuable assets or expensive items need to be monitored while they are in transit. The GPS Asset and People Tracker is a small platform tracker designed to track assets that are on the move. This is an incredibly powerful device, which allows the user to track an asset in real-time and plot full history as well as many other features.
Spy phones
There are some cases where a spy phone may come in handy. Perhaps you are concerned that a spouse may be cheating and you want to know whether they have any inappropriate messages, phone conversations or social media activity. You may be worried about the safety of your children – if they have not come home before their curfew if you suspect they are being bullied or browsing dodgy websites. You may have suspicions that an employee is using their work phone for potentially harmful reasons and want to be sure your business is not in danger.
The Samsung S7 Galaxy Edge spy phone is the pinnacle of mobile technology. This fully-functioning smartphone features specialist spy phone software that can monitor a range of phone user activity – more so than any other spy phone on the market. This device is capable of gathering information on phone calls, text messages, internet browsing history, images and GPS location.
Portable cameras
OK, so not everyone walking around the city is a private investigator, but there are times when a portable camera may be needed. For example, journalists wanting Intel for an important story; law enforcement officers obtaining information for a court case; or even mystery shoppers gathering evidence about the legitimacy of a store.
Spy Equipment UK's iPhone Cradle HD Spy Camera is a world-class evidence gathering tool which can be used as a portable device or body-worn camera. A must-have for surveillance professionals, this spy camera fits onto the iPhone 6 and records HD-quality video.
Bug detection
There are high amounts of wealth around the city – banks with vast figures of money, museums with valuable art and objects, large corporations with much at stake. Unfortunately, these institutions are under threat from bugging and covert monitoring. For this reason, counter surveillance equipment has become increasingly popular.
The WAM-X10 Wireless Activity Monitor is the creme de la creme of professional counter surveillance measurements. This cutting-edge wireless high-frequency monitoring system is one of the most comprehensive devices on the market – and is capable of detecting all manner of bugging technology.
To summarise, using spy equipment in the city can make a huge difference to the safety of citizens, business and assets all around the urban area. At Spy Equipment UK, we recognise the importance of obtaining the right equipment to effectively protect yourself. Get in touch today to find out more about our extensive product selection, or just ask us any questions about spy equipment – we are the experts!