A Breakdown of The Five Best-Selling Listening Devices
Listening devices are an excellent way to collect evidence and monitor a variety of situations. Audio spy products can also get the edge over video surveillance as they are a lot more discreet to use and therefore less thought and planning needs to be put into their usage.
Furthermore, their adaptability and versatility make them the ideal solution for both personal and professional use. This article looks to breakdown five of Spy Equipment UK's best-selling hidden audio recording devices, to help you make a more informed purchase.
1. Enduro Black Box Recorder
Introducing one of our best-selling products, the Enduro Black Box Recorder. This is the ideal hidden audio & voice recording device for a number of reasons, including:
Its discreet, inconspicuous design
Its small, pocket-size, which makes it perfect to use on-the-go, or to hide in smaller, undetectable places
Ideal for long term deployment, especially within a car or other vehicle
Its voice activation capabilities mean that when there is no sound in the vicinity of the device, it will save memory space
Conserves battery life extremely well – the listening device can remain in standby mode for 166 days
This recorder is also highly versatile as it is compatible with both Windows and Mac computers. Additionally, the sensitivity of the microphone gives it a ten-metre radius.
View Product >> Enduro Black Box Recorder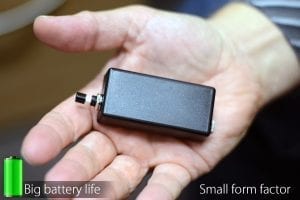 2. Flash Drive Recorder Pro
Another popular hidden voice recorder is the Flash Drive Recorder Pro, which comes in the form of a USB memory stick. This product boasts the following features:
Long-lasting battery life
Records up to 24 hours
Standby time of 25 days, per charge
Recording memory capacity of up to 288 hours.
Time and date stamp on recorded files, making it easier than ever to keep track of the conversations around you.
View Product >> Flash Drive Recorder Pro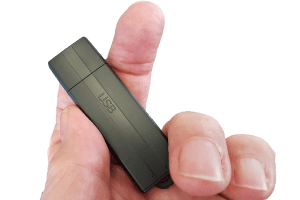 3. GSM Double Plug Adapter
Of course, like many of our products containing hidden recorders, at first glance, this looks like a regular everyday appliance. However, the listening bug GSM Double Plug Adapter contains a robust audio unit and is complete with an optional voice activation feature. This astonishing piece of equipment has an unlimited surveillance distance, allowing users to listen from anywhere. It is loaded with a UK SIM card that will need to be replaced with a relevant SIM depending on the country in which it's set up.
View Product >> GSM Double Plug Adapter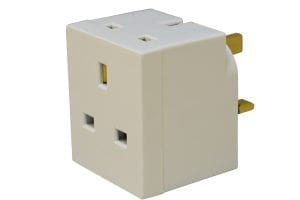 4. Spy Pen Digital Recorder
The Spy Pen Digital Recorder from the range of listening devices is a stylish ballpoint pen that can either be used as a normal stationary product or as an audio recording spy pen, and the subtle design makes it perfect for use anywhere. Its features include:
Extremely versatile and discreet recordings can be started or stopped covertly by simply sliding the pen clip
Runs for 12 hours in recording mode and 8 hours in playback mode
Listening radius of up to 8 metres.
Perfect to record meetings and interviews, this multipurpose product does not look out of place at home or in the office! Find more about the advantages of listening in with our spy pen digital recorder and become more productive with listening devices.
View Product >> Spy Pen Digital Recorder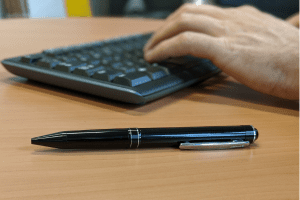 5. Listen Through Wall Device
The Listen Through Wall Device is a special microphone amplifier that will detect the faintest of noises through walls, partitions and barriers. The listening device includes earphones, as well as bass and treble controls for audio adjustment. This product is highly versatile as it can be used to monitor both conversations in another room, as well as the presence of fluids in pipes and to determine mechanical issues.
View Product >> Listen Through Wall Device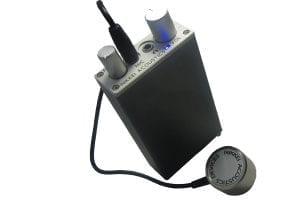 Look to Spy Equipment UK for Your Audio Recording & Listening Devices
Whatever your requirements, Spy Equipment UK has a range of listening devices to help you to listen to and record audio. To learn more about our current top 10 spy shop products, or if you're interested in any of the bestsellers mentioned within this article, contact us today on 024 76010588 or email us at [email protected] and we'd be happy to advise you further.