When Might You Need A Spy Pen?
Nowadays, it is much easier to capture valuable video evidence, or record important conversations whilst on-the-go, without raising any suspicion, primarily because you can find a hidden camera or voice recorder in almost anything. Spy Equipment UK's extensive range of recording devices are only becoming more popular as they continue to take a variety of covert forms, from flash drives and car keys to fitness watches and spy pens.
Spy pens are some of our best-selling hidden audio recorders, most likely due to their extremely discreet design and portability. Within this article, we are going to discuss the nature of these pens in more detail, to provide you with a better understanding of their many features and applications, so keep on reading to find out more.
What Is A Spy Pen?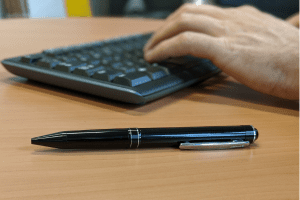 In simple terms, a spy pen has the same appearance and functionality as an ordinary writing pen, but surpasses them with its built-in audio recording system, which allows the user to record important, surrounding conversations. As part of our body worn spy cameras range, Spy Equipment UK also offers a more advanced spy pen that has video recording capabilities alongside the voice recorder function. All of the spy pens have similar key features, for example:
Lightweight – all of our spy pens weigh between 18 and 36 grammes
Slim design – the pens' dimensions are similar to a conventional pens, making them easy to carry
Superb microphone and recording capabilities
Silent in operation – our pens will not give any signal they are recording
Compatibility with Mac or Windows 2000 and higher
Short recharge time – the audio pens usually take a few hours to recharge, but have a strong battery life when in use
The video and audio pens have a shorter recording time, but an included add-on battery pack can extend this
How Do You Use A Spy Pen?
Spy pen voice recorders and spy pen cameras can be deployed in numerous settings – really anywhere that a pen wouldn't look out of place. These hidden audio recorders can be placed in plain sight, and it is unlikely anyone would look twice at it. For example, many of our customers described how well they worked when attached to a shirt pocket whilst on-the-go, as they could pick up extremely clear voice recordings and front-facing video footage.
As most of our spy pens have useful recording control buttons or voice and motion activation capabilities, the user has a lot of flexibility in terms of when and where they start recording footage. Some of the most common situations we see at Spy Equipment UK, where our spy pens have been proven to be hugely valuable, are as follows:
In Meetings & Interviews
Spy pens are particularly useful in the workplace, for example when attending important meetings, individuals may want to ensure they are engaged throughout, instead of writing excessive notes. In this case, the spy pen can be used to record what is said during the meeting, which can then be transferred to a computer and listened to at another time. In a similar vein, business owners may want to use a spy pen to record an interview, so they can review what was said following the meeting when deciding whether to hire a candidate.
At School Or University
For those who struggle to keep up with a lecturer when at school or university, a spy pen could be the perfect solution. Instead of spending the whole lesson or lecture panicking you haven't taken down the most important points, with a spy pen you can take part in discussion and engage more, knowing you will be able to listen back to what was said afterwards.
For Criminal Investigations
Lastly, we often see our spy pens being used to capture incriminating video or audio footage, for example of workplace harassment or bullying, as these cases aren't usually taken further without solid evidence. You can find out more about situations that would suit using a voice recording device by getting in touch with our team of experts.
Spy Equipment UK's Spy Pens
At Spy Equipment UK, we are constantly making spy pen voice recorder developments, to provide the best possible recording solutions to our customers. So you can learn more about the individual features of each of the products, here are some of our most popular spy pens:
HD Video/Voice Recording Spy Pen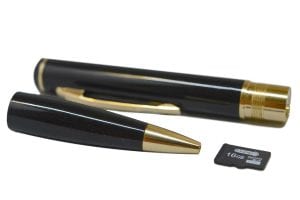 For years, our high-definition Video/Voice Recording spy pen has been a huge hit amongst our customers. Not only is this pen capable of recording high-quality audio, but it can also capture video footage using the extremely discreet hidden camera that can be located just above the pen clip. Some of the pen's other notable features include:
Black and gold stylish finish
Switchable motion-activated function
Sensitive microphone with a six-metre pick-up range
Ability to capture high-resolution snapshot photographs
Time/date stamp
One hour of continuous video recording which can be extended with an external battery pack
Spy Pen Digital Recorder (Voice Activated)
Similarly to the spy camera pen, our Spy Pen Digital Recorder has always been another popular choice. This sleek spy pen conceals a covert, premium quality voice recording unit and has recently been adjusted to also include a time and date stamp. It also features:
Recording controls incorporated into the sliding pen clip
Excellent battery life
Three sound quality settings
Superb memory capacity
Easy file transfer & playback
Executive Voice Recorder Spy Pen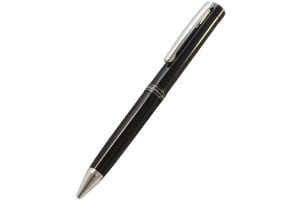 Finally, our sophisticated Executive Voice Recorder Spy Pen is the perfect solution for those wanting to discreetly record conversations whilst in the office, or perhaps an important meeting, without those around you suspecting a thing. Some of the pen's best features include:
Sleek, classy design
Rechargeable internal lithium battery
Sensitive microphone that can record sounds within eight metres
Supplied with a variety of accessories, including a set of headphones, a setting controller as well as an inbuilt discreet screen for easier playback directly from the pen
Discover Spy Equipment UK's Spy Pens Today
At Spy Equipment UK, we offer some of the most effective audio and video recording solutions on the market today, and alongside this, we are committed to always delivering an exceptional level of service. Any enquiry or purchase will be treated with complete discretion by our team of professionals, who are always on hand to answer any questions you may have about us.
If you are interested in learning more about our range of spy pen voice recorders and spy camera pens, please do not hesitate to contact our team of experts today on 024 7601 0588 or email us at [email protected].