Find Out If Your Partner Is Cheating Before Valentine's Day
It's something that none of us would ever want to experience, but the sad truth is that it is now easier than ever for a cheating partner to go undetected.
As the Daily Mirror recently reported, an app has been launched that allows cheating partners to have more than one number on a single phone, allowing them to lead their double lives without raising any suspicion at all. So with Valentine's Day just around the corner, if you suspect your partner of being unfaithful, now's the time to find out and confront them before the big day arrives. Here, we look at five gadgets that can help you find out if your suspicions are true.
Social Media Web Tracker
In the case of cheating partners, the popularity of social networking sites such as Facebook and Twitter means that it has never been easier for them to rekindle romantic relationships with former school friends, or meet new people specifically to have affairs with. Some people consider even flirtatious texting as an affair when asked: what counts as cheating? 
If you suspect your partner of using these channels to cheat on you, a great way to catch them out is by using Phone Monitoring and Computer Monitoring Spy Devices. These spy gadgets easily plug into or attach to the phone or computer you suspect your cheating partner, allowing you to see all of the clandestine messages they are sending.
The best thing is that our Ultra Spy Phone Software and Global PC Spy software allows you to access all of this information without leaving a trace behind on the device. Even antivirus software won't detect it. It's never been easier to spy on your spouse without a PI.
GPS Enforcer Vehicle Tracker
If you suspect that your partner is using their car to conduct an affair, then a GPS Enforcer Vehicle Tracker will allow you to easily monitor their movements.
This device magnetically attaches to the underside of a car, and just requires an active SIM card and mobile phone in order to use it. To find out where your partner is, all you have to do is make a call or send a text to the number that the SIM card uses in order to get the location of the tracker back to your phone as a message. This message will contain map coordinates as well as a link to Google Maps, so you'll be able to get a good idea of where your cheating husband or wide is and what they might be up to.
Recovery Stick
Almost everyone uses a smartphone these days, and if you want to monitor the deleted text messages that your partner has sent from theirs, then you need to use a Recovery Stick.
With versions available for either iPhone or Android users, a Recovery Stick allows you to recover deleted text messages, phone call details, contacts, Safari web browsing history, as well as photos. The best thing is that the software is future proofed against developments in technology, as free upgrades come as standard.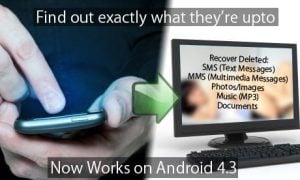 Plug Adapter Voice Recorder
A great way to keep track of your partner's activity is to use a voice recorder. By monitoring their conversations, whether they are being discreet or not, you should get a good idea of whether they are being unfaithful to you. Using tact is key with this type of surveillance, and with the concealed voice recorder in this Plug Adapter, it will be almost impossible for your partner to detect that they are being monitored.
This clever unit is fitted with a micro SD card, and will begin recording once it is plugged into a live mains socket and detects sounds. To listen to the recordings, the SD card will need to be removed and placed in an SD card reader (which is also supplied) and then played using the media player on your PC or laptop – a great way to easily prove or disprove your suspicions with little fuss.
Windows Master Key
If you suspect that your partner is using their Windows PC or laptop to be unfaithful, using a Master Key will allow you to access their account quickly and easily, without the need to know their password.
To gain access to their account and check Outlook emails or saved documents that they might have, all you need to do is insert the Master Key into a USB port when the PC or laptop is turned off, allowing you to bypass the login step without any detection – it couldn't be simpler. It might be the best way to find out who is cheating on who when it comes to illicit affairs on Facebook and other social media.
It's never easy if you suspect that your partner is cheating on you, and this can be even harder to accept when it's in the run up to Valentine's Day. Other times of year aren't safe either, so we've also prepared an article on how to catch your cheating partner this Christmas. However, by using the spy gadgets above you will be able to prove or disprove your suspicions quickly and easily, allowing you to focus on moving on with your life. Contact us for some impartial advice on this subject and relating to our devices.