Aston Martin To Re-create DB5 Model With High Quality Spy Gadgets
James Bond is synonymous with luxurious, fast-paced adventure and has been a household and Hollywood name since 1962, when the first movie, Dr No, was released. Since then, Bond has become a character for people to aspire to in modern, every-day life and so have his spy gadgets, including and not limited to hidden cameras and voice recorders.
Now, Aston Martin have revealed plans to recreate the legendary DB5 model, based on the 1964 model used in Goldfinger, complete with said savvy spy equipment! Aston Martin President and Chief Executive Officer, Andy Palmer, commented: "To own an Aston Martin has long been an aspiration for James Bond fans, but to owns a Silver Birch DB5, complete with [spy] gadgets and built to the highest standards in the very same factory as the original James Bond cars? Well, that is surely the ultimate collectors' fantasy."
The Ultimate In Luxury Spy Gadgets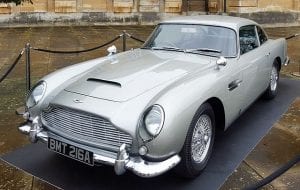 The upgraded 21st-century model will feature enough working spy gadgets that only Q would be proud of. Colin Betram, a reporter at Automotive News, says: "The espionage modifications will be co-developed by Academy Award-winner Chris Corbould, special effects supervisor on eight previous Bond films. So far, rotating number plates have been announced, with more to come.
"It's safe to predict that a working ejector seat is not on the blueprints."
Unfortunately, only 25 of the limited edition vehicles will be available, at an eye-watering price tag of £2.75 million. So, unless you're a true 007 super-fan, or have just won the euro-millions, then we would suggest getting your bids in now!
Here at Spy Equipment UK, we know as much as you, or even ourselves, would like to be the next James Bond and drive around in Aston Martin's, realistically it's not going to happen. However, we do have a range of car trackers, such as the Magnetic Car Asset Tracker and GPS Enforcer Vehicle Tracker, as well as hidden audio and voice recording equipment at your disposal.
The Business Report states: "[The] All new/old DB5s will feature Silver Birch paint, just as Bond's movie original did. Mechanical specifications will be similar to the original, with "sympathetic modifications to ensure the highest levels of build quality and reliability", according to Aston Martin.
Spy Equipment For Your Vehicle
If you need to track your cheating partner or unfaithful spouse, and need to gather sufficient evidence of their wrongdoings, then contact our team who will be able to advise you on the best spy gear for your requirements. You never know, you may become the next best domestic spy in the UK!