Exclusive: Inside the world of private investigators
Private Investigators Graham Deacon and Alexander Shaw don't wear raincoats, nor do they like being compared to shady fictional detectives. They are far removed from the stereotypical image of a private investigator. Here, they speak to Spy Equipment UK about their backgrounds, roles and responsibilities – including some interesting stories from on the job.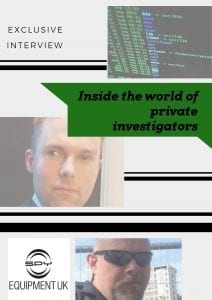 Could you introduce yourselves and provide some insight into your background?
Graham: I was a police constable for 12.5 years, and have 17 years of experience undertaking assorted investigatory assignments.
Alex: I have been a PI for two years. My decision to become a PI was purely based on an interest for the role. Prior to becoming a PI, I was working in factories and warehouses, but due to a large redundancy payout from my previous employer, I was able to set up my own business.
What inspired you to become a PI?
Graham: I had become disillusioned with my role as a constable, and really quite bored of police-related duties/red-tape' and poor management.
Alex: When faced with the opportunity to start my own business I decided to go for something that was unusual and interesting. I was keen to learn about what was involved in the role and took up some part-time work for a PI firm to learn more about the business.
What are the most prominent reasons people hire you? Do you receive more corporate or domestic inquiries?
Graham: Mostly, people hire us to achieve peace of mind. I have handled domestic enquiries, from looking into stolen dogs to high-end corporate enquiries, the latter being my most common form.
Alex: I am often hired by suspicious partners who believe their other half is having an affair. This will often lead to a surveillance job or vehicle tracking to find out where the other person is going.
Could you highlight both the advantages of your position?
Graham & Alex: Advantages include: a varied lifestyle, the chance to meet interesting people and a sense of satisfaction when a resolution is found.
Any disadvantages?
Graham: Working alone for long hours, being away from home, having to live off my wits, pandering to the unreasonable whims of clients, partnering with clients who have no idea what they are doing – and who may compromise honesty to achieve results – and monetary and legislative restraints.
Alex: The other thing I dislike is when a job goes wrong. Say, for instance, losing a target in busy traffic. The whole job can be ruined because of a small incident such as this.
Have you had any extraordinary or bizarre requests? What have been some of your favourite cases to work on?
Graham: I was once hired to read a love letter to an estranged partner and to not let her keep it.
Alex: One man believed his dentist may have fitted a recording device inside his tooth. I've also had a guy who wanted me to steal back "his" car that was locked inside his wife's garage.
Could you talk us through some of the kits you use? Which devices do you find most come in handy?
Alex: The best bit of kit a PI can own is a car. Obviously, they come in handy when following another vehicle, but you also need one for static surveillance. You would be spotted very quickly if you were stood outside someone's property all day.
You will also need a good camera for capturing any action, a spy camera or audio recorder to hide in a client's property. I have also fitted magnetic tracking devices under a target's car and installed recording devices in some phones – but the client would need to get the phone to me first.
Graham: I have a range of hand-held hard drive recorders, several listening devices within items such as telephone covers and clothing, a covert surveillance vehicle equipped with battery chargers and other sundries that compliment my ordinary vehicle, two-way radios and GPS trackers.
What are the common misconceptions about your role?
Graham: That I am a spy, living like fictionalised characters!
Alex: People believe that it is easy to follow a person. If you are following someone for 10 hours, at some point they will notice you several times, especially if the target is up to something as they will be suspicious. You need a team of people who can rotate during the day so that the target doesn't become aware. It can also be difficult to follow someone in a car if traffic is bad.
Certain cases will naturally be sensitive and emotional. How do you deal with people's feelings when they come to you for advice?
Graham: I detach myself and offer the facts. I do offer sympathy and never give false hope.
Alex: Most people aren't really that willing to share their emotions. Some may wish to talk, in which case, I will listen and offer advice. A few may even want a small hug, but as a stranger, you can't really offer much emotional support.
On the other hand, when issuing court papers to people they can become angry. I have been threatened several times while doing this role and have even had things thrown at me!
Some cases can be quite time-consuming. How do you ensure you strike a good work/life balance?
Alex: This is one of the hardest parts of the job. You may be called by a client at a moment's notice, and hours can be long and varied. Being self-employed means that if you have learnt enough money that week you can turn the job down, but as most self-employed people will probably agree, you never know when the next job is going to come and so you just take all the work you can.
Contact Spy Equipment Uk
If you would like to find out more about Spy Equipment UK's private investigation services, please contact us today.