Spy Van Returns – This Time It's A 1989 Dodge Ram!
You may remember an article we published back in June on the 1988 Ford Transit spy van that sold at auction for £10,300 in Leicestershire?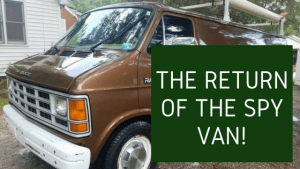 Well, now we're heading across the pond to North Carolina, where Ginter Senfeldas has announced the sale of a 1989 Dodge Ram 350 on eBay!
Not only is the Dodge in mint condition, but it's also a fully-equipped FBI surveillance van with monitoring devices, microphones, security tapes and notebooks stored inside.
And with just 23,500 miles on the clock, as well as a well-maintained interior, the eBay auction was always going turn heads. In fact, the lucky winner bought the van for a whopping $18,700.00 US dollars.
What's inside?
In a recent interview with a local North Carolina news station, Senfeldas commented on the inside of the van, stating that there were microphones installed all around the interior: "There's microphones as we took the side markers out of the van and there are microphones hidden in headlights and taillights. That's why there's little holes everywhere," he said.
There is also a video on YouTube that Senfeldas has posted, which showcases the various features and details of the van. The video depicts two LCD screen, audio recording equipment, spy cameras and microphones.
Senfeldas also posted footage of leftover audio cassettes and CDs, that he believes are the remnants of old investigations conducted by the FBI.
Check out this YouTube video to see what the van looks like!
Going, going, gone!
The auction came to an end last month, on the 34 July 2017 at 19:00 (Eastern time). Senfeldas received over 35 bids, but the van was finally sold for $18,700 to one lucky bidder.
If you're thinking of turning your vehicle into an undercover spy machine, we can help you kit it out! We design, manufacture and supply a wide range of high-quality spy equipment, from audio recorders, spy cameras, CCTV and surveillance solutions, PC and phone monitoring software, among many others.
Contact Spy Equipment UK today on 024 7601 0588 or fill out our online contact form.